Calvin Cordozar Broadus Jr., better known as the rapper Snoop Dogg, received a rapturous reception at The Black Forge Inn, the Dublin pub owned by mixed martial artist Conor McGregor.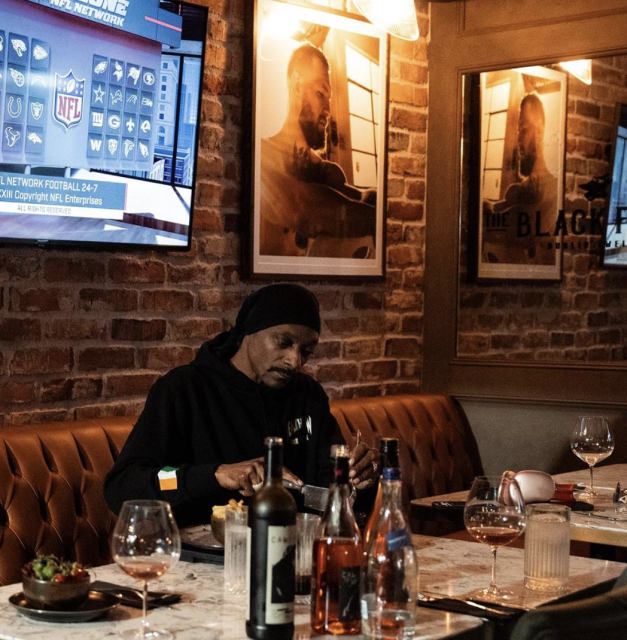 Image credit: Instagram user @thenotoriousmma
Broadus was in the Irish capital ahead of his gig tonight (Monday 25 September), and he received a big welcome when he entered McGregor's establishment on 163 Drimnagh Rd yesterday, as this video shared to Broadus' 81.4 million Instagram followers shows:
As well as the cheering fans, Dr. Dre's The Next Episode, which features the lyric "Da, da, da, da, da. It's the motherf*ckin' D-O-double-G (Snoop Dogg!)", played in the background.
Broadus then sat down for a meal, which, appropriately for the Drop It Like It's Hot singer, consisted of chips and a flambéed steak – known as the Forged Steak on Stone – a 10 ounce rump costs €36, according to the menu.
It does seem that he forewent a pint of the pub's Forged Irish Stout, or a dram of McGregor's Proper No. Twelve Irish Whiskey, in favour of a bottle of wine:
McGregor himself does not appear to have been present at the gathering, though he shared several photos from the occasion, including those showing Broadus posing with his title belt, and also some snaps of the rapper meeting his mother, Margaret McGregor:
While in Dublin, Broadus has also visited the Guinness Storehouse at St. James' Gate.
Broadus himself is no stranger to the drinks industry, being affiliated with 19 Crimes, the mass-market wine from Australian wine giant Treasury Wine Estates.
His Cali series features several wines now, including white, red, rosé and sparkling. It appears that this isn't what he was drinking at The Black Forge Inn.