Julia Fox has managed to construct a wardrobe more polarizing than that of anyone else in Hollywood — including Lady Gaga.
Working with stylist Briana Andalore, the 33-year-old "Uncut Gems" star and new author of "Down the Drain" has cemented a moment in pop culture with her kitschy street style outfits gawked at by fans and fellow runway show attendees alike.
Sitting front row at Fashion Week presentations such as Wiederhoeft, where she memorably rocked both a wedding gown and poodle dress; Diesel, where she outfitted her son Valentino in matching denim; and Naomi Campbell's PrettyLittleThing collection debut, where she arrived in nothing but chains and a patent leather trench coat, Fox is nothing if not courageous, pushing the sartorial envelope wherever she goes.
Though she rose to fame while dating Kanye West, and simultaneously stepping into the spotlight at Paris Haute Couture Week in 2022, Fox is a model, actor, and artist in her own right.
She recently partnered with Victoria's Secret on The Tour '23, fronting the newest iteration of the show in a plunging yellow minidress designed by Lagos-based designer Bubu Ogisi.
She also wore the above metal-plated corset gown and sheer, gauzy gloves to the "Something You Said Last Night" premiere in New York on Sept. 22, celebrating her role as executive producer on the film.
While Fox has brought life to more divisive fashion trends than we can count, we're spotlighting some of her most noteworthy ensembles ahead. Scroll to see if you can pinpoint one or two that really make your jaw drop.
Julia Fox's Heelless Platform Boots Come With a "No Walking" Warning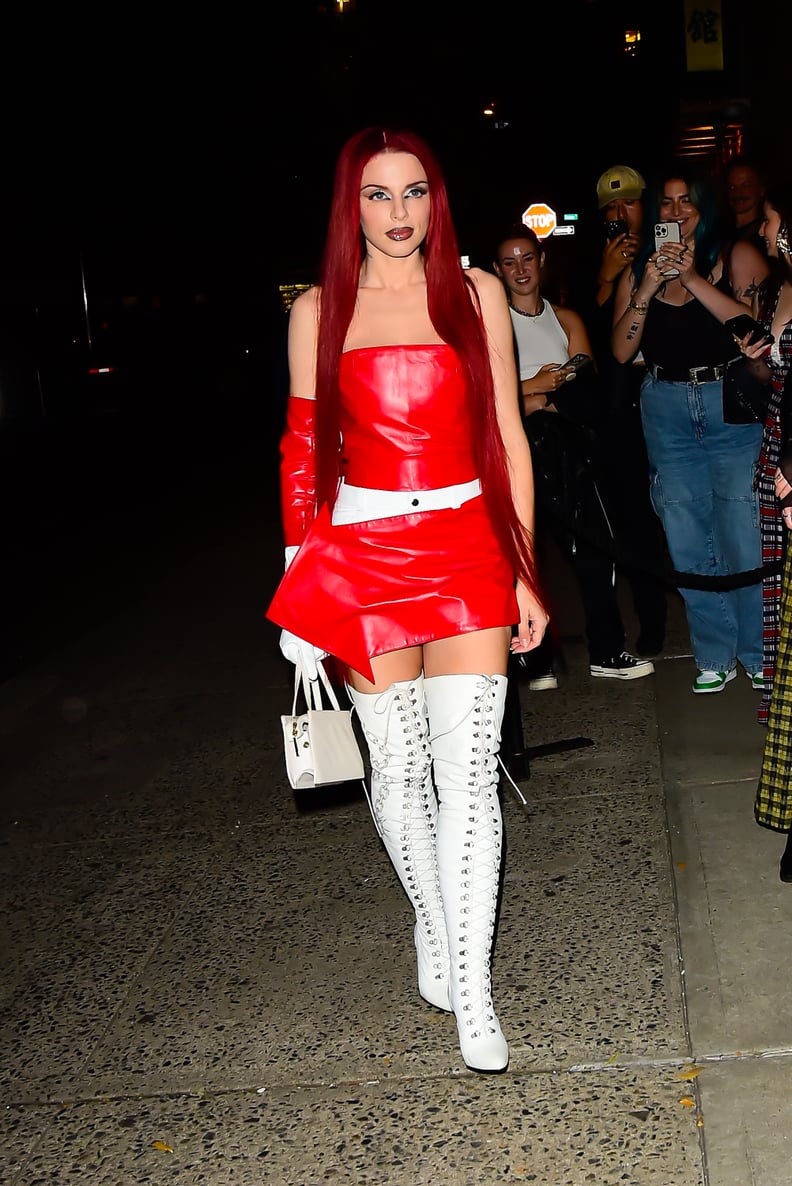 Julia Fox Wearing a Red Leather Mini Dress
Julia Fox matched her red hair to her outfit in a crimson leather mini dress paired with white lace-up thigh-high boots and a mini box handbag to match.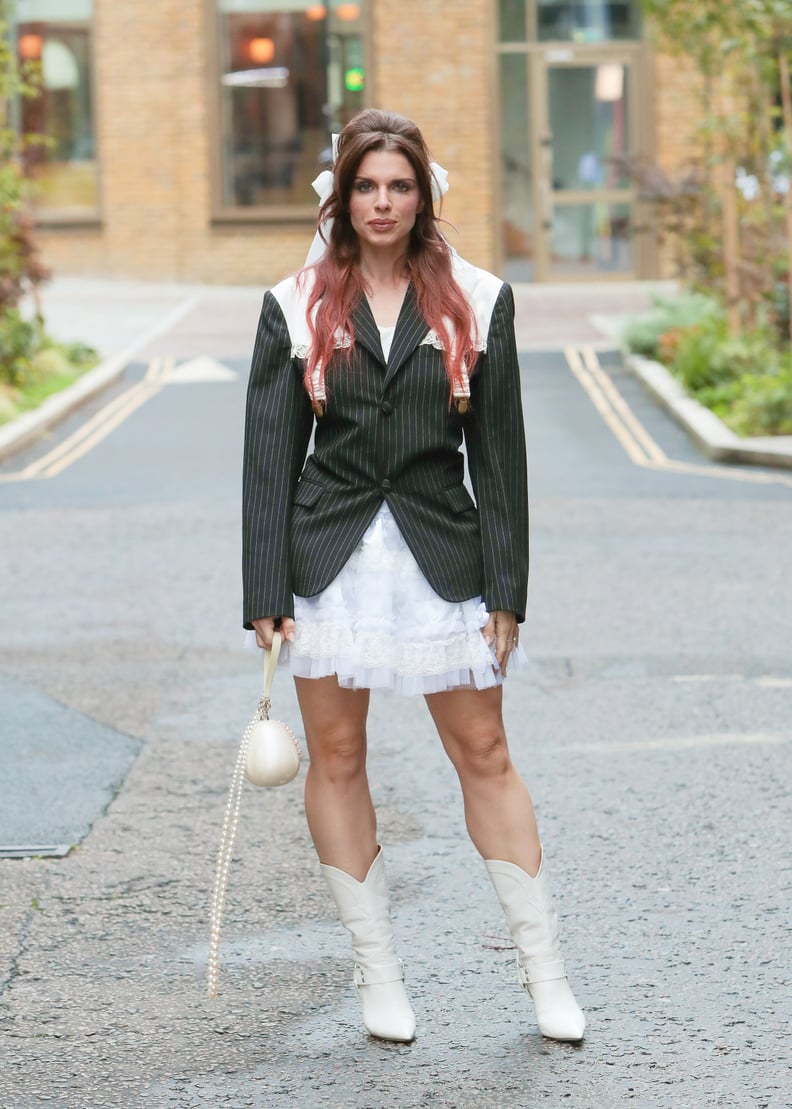 Julia Fox Wearing a Mowalola Cutout Dress
Julia Fox took the cutout trend to unprecedented heights in a Mowalola dress with bare panels along her pelvis, thighs, legs, and ankles.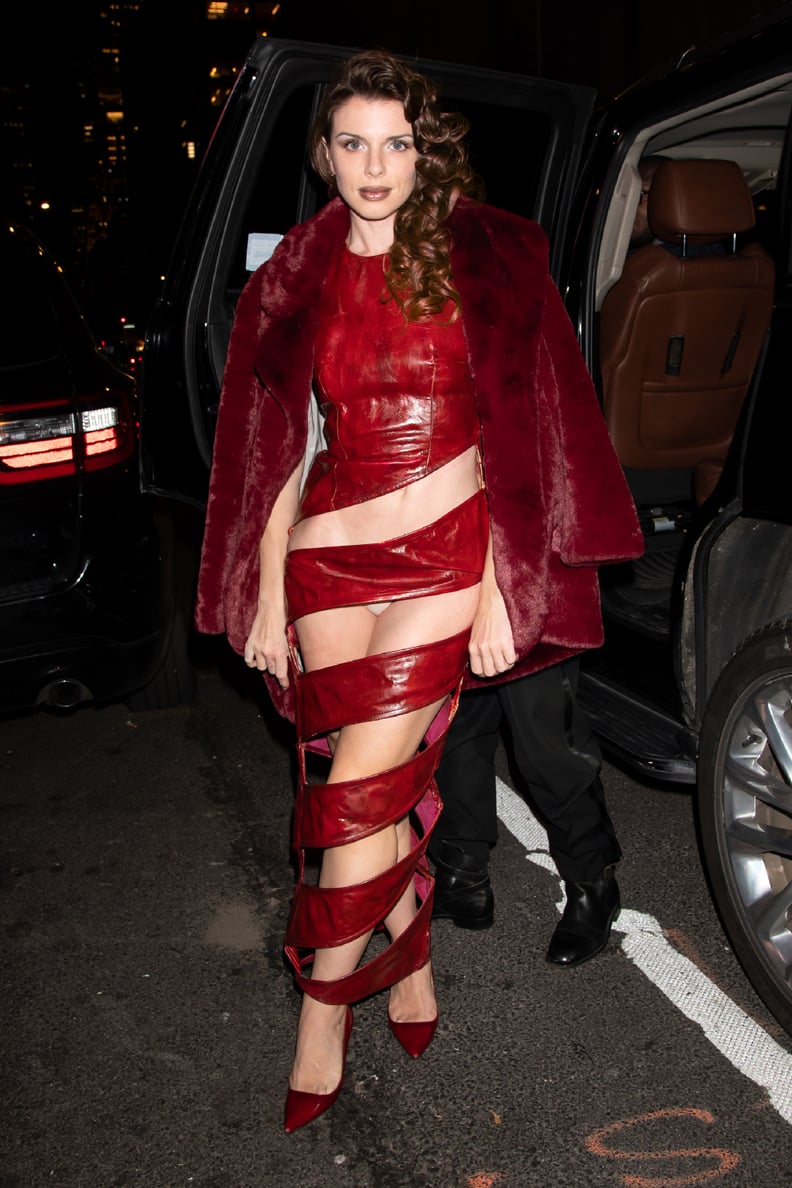 Julia Fox Wearing a Blazer and Tulle Dress
Julia Fox posed in London on Oct. 20, wearing a white tulle dress, a sharp-shouldered blazer, cowboy boots, and a bow in her hair.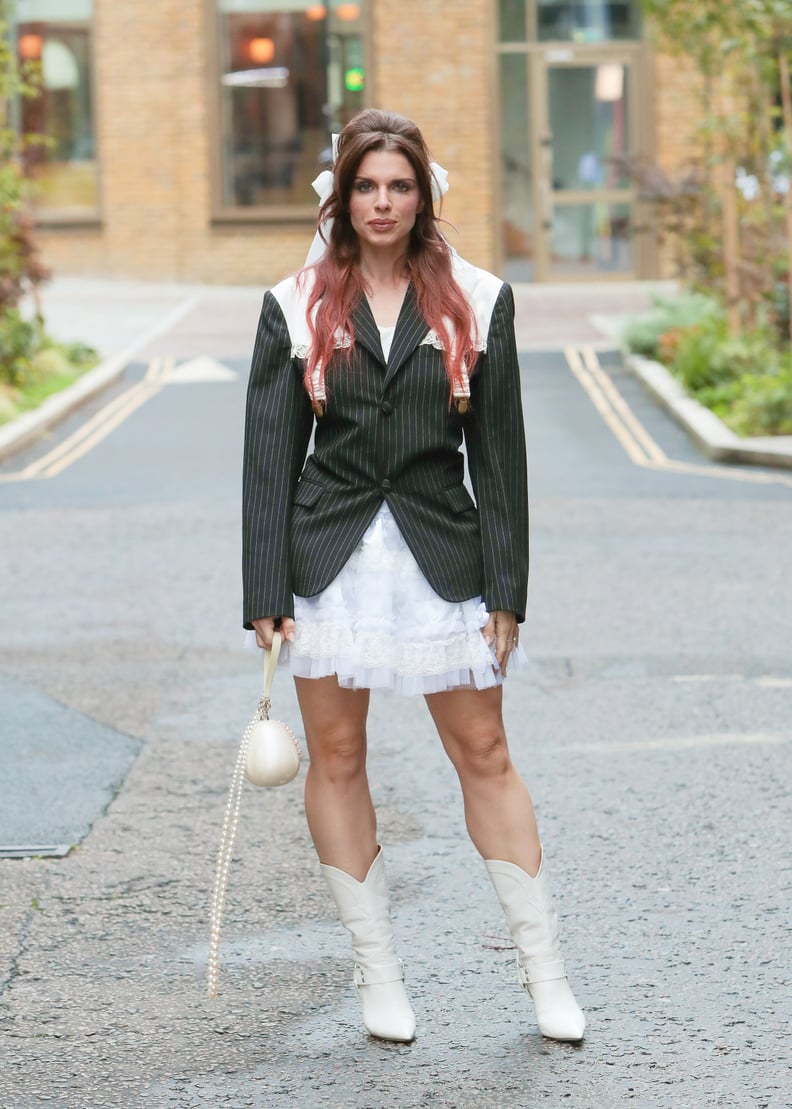 Julia Fox Wearing a Princess Diana Corset
Julia Fox paid homage to the people's princess in a corset bearing Princess Diana's visage by Eve's Corsets.
She styled the statement piece with a Chopova Lowena skirt, a Mowalola bag bearing the UK flag, cowboy boots, and white bows adorning her hair.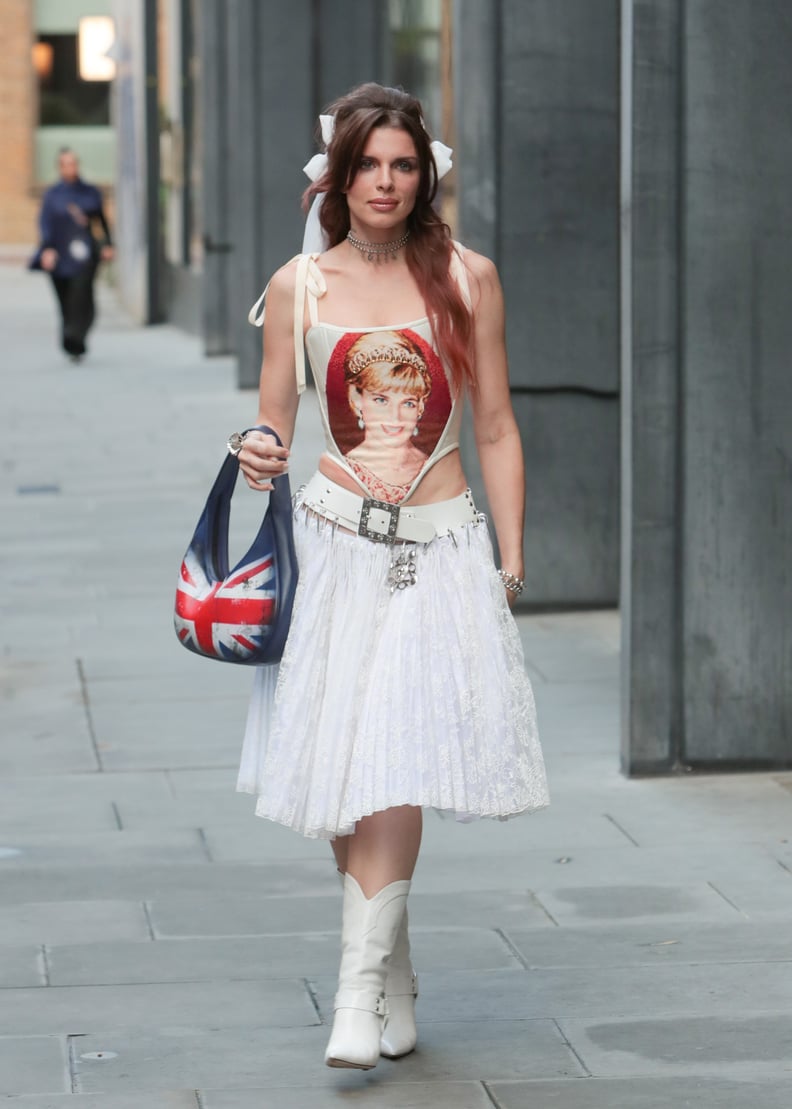 Julia Fox Wearing a Plunging Striped Gown
The "Down the Drain" author stepped out in London on Oct. 19 wearing a plunging gown with sharp shoulders, long sleeves, and an all-over vertical-stripe print. Her pelvic cutouts add a subtle touch of edge.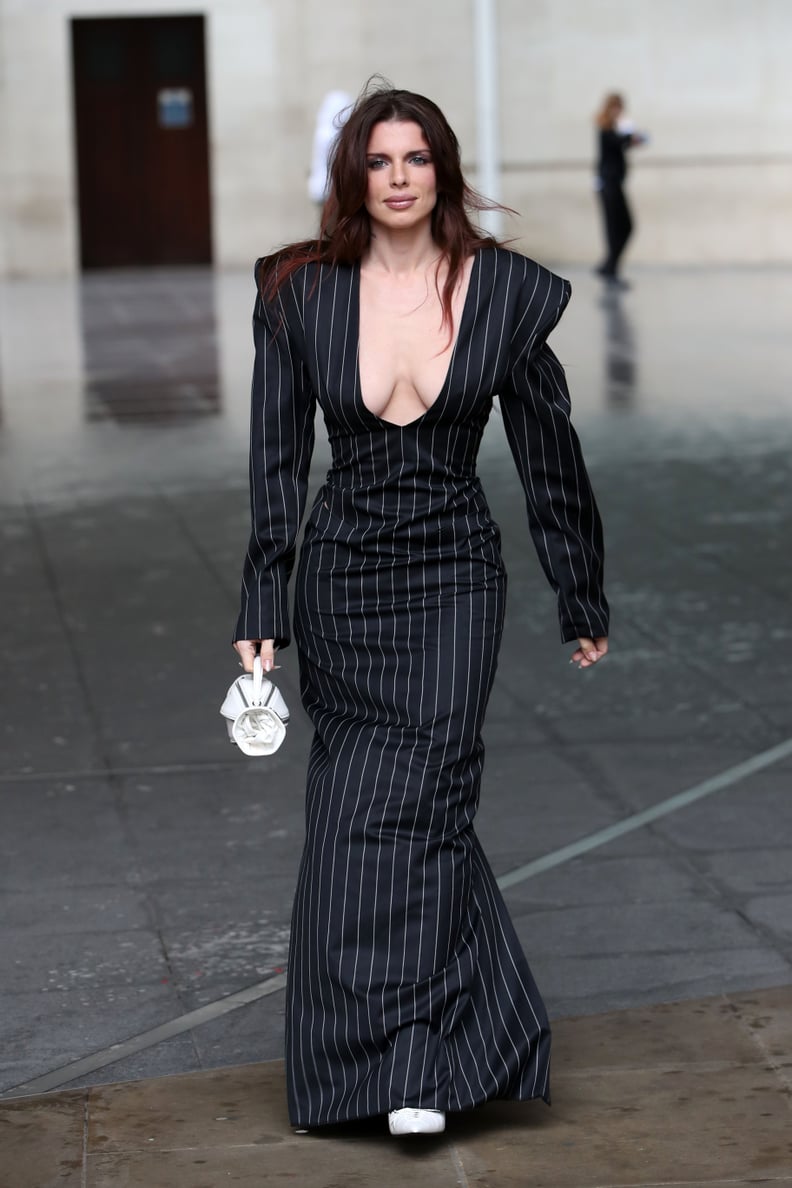 Julia Fox Wearing Black Separates in London
Julia Fox showed off her abs in a collared crop top and matching coat paired with low-rise pants. She brought the look together with buckled, pointy-toe flats and an oversize belt.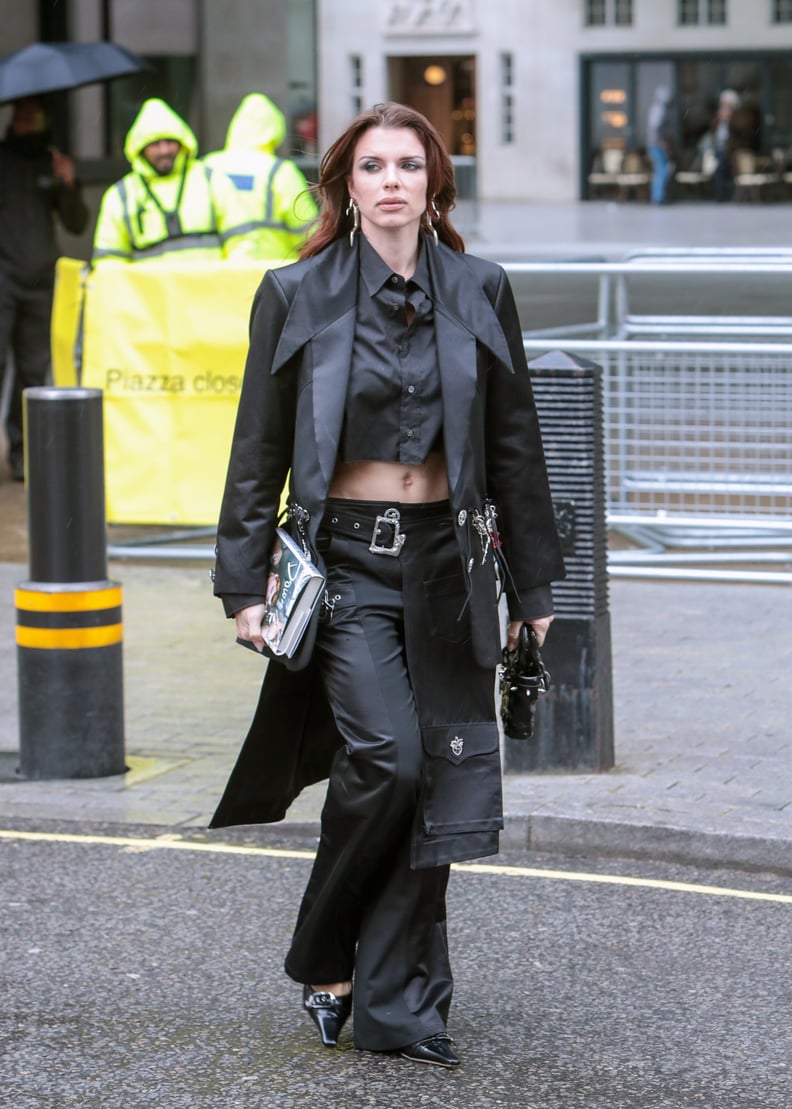 Julia Fox Wearing Jaded Underwear Over Pants in NYC
You couldn't miss Julia Fox in NYC when she stepped out wearing the underwear-as-outerwear trend.
Wearing head-to-toe Jaded, Fox layered her ruffled bloomers over matching white pants and finished the look with an off-shoulder crop top and sky-high platforms.
Julia Fox's Wet-Hair Thongkini Is the Boldest Style in Her Collection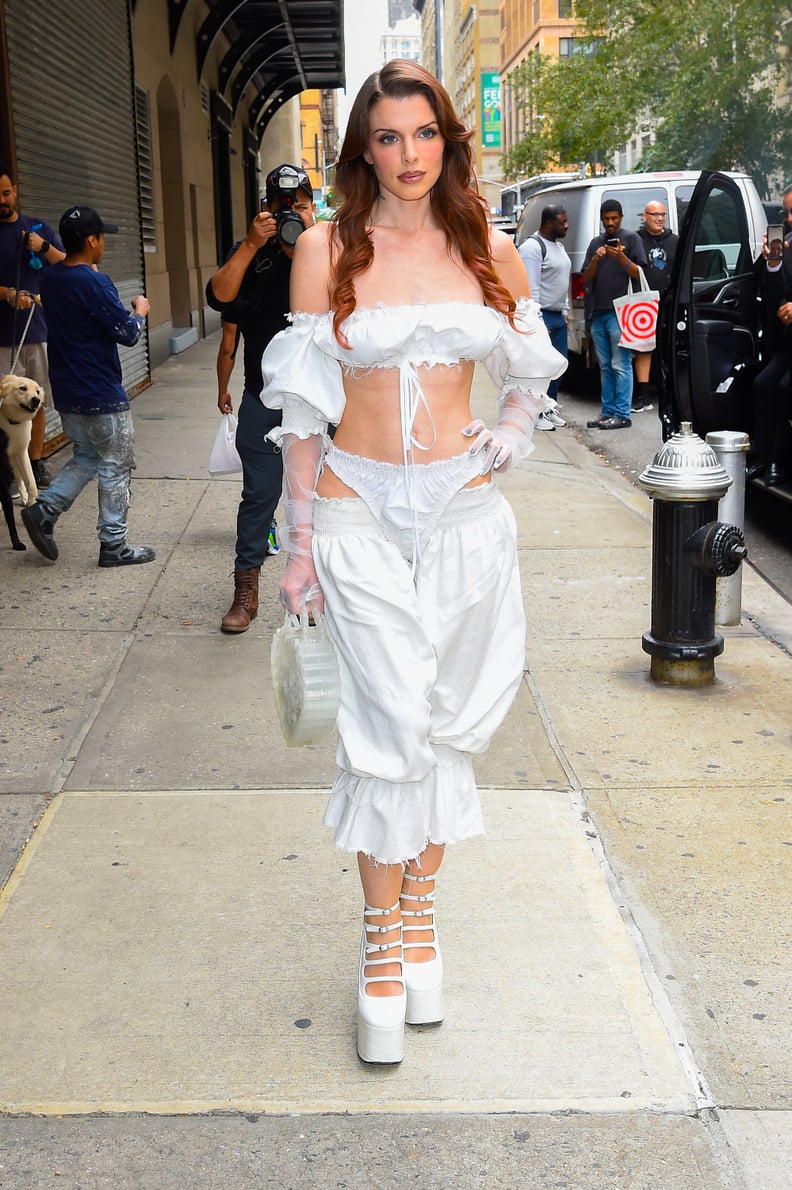 Julia Fox Wearing a Garment Bag Dress in NYC
Julia Fox commanded attention in a Figura Services garment bag dress worn during a press run for her memoir, "Down the Drain," in London on October 17.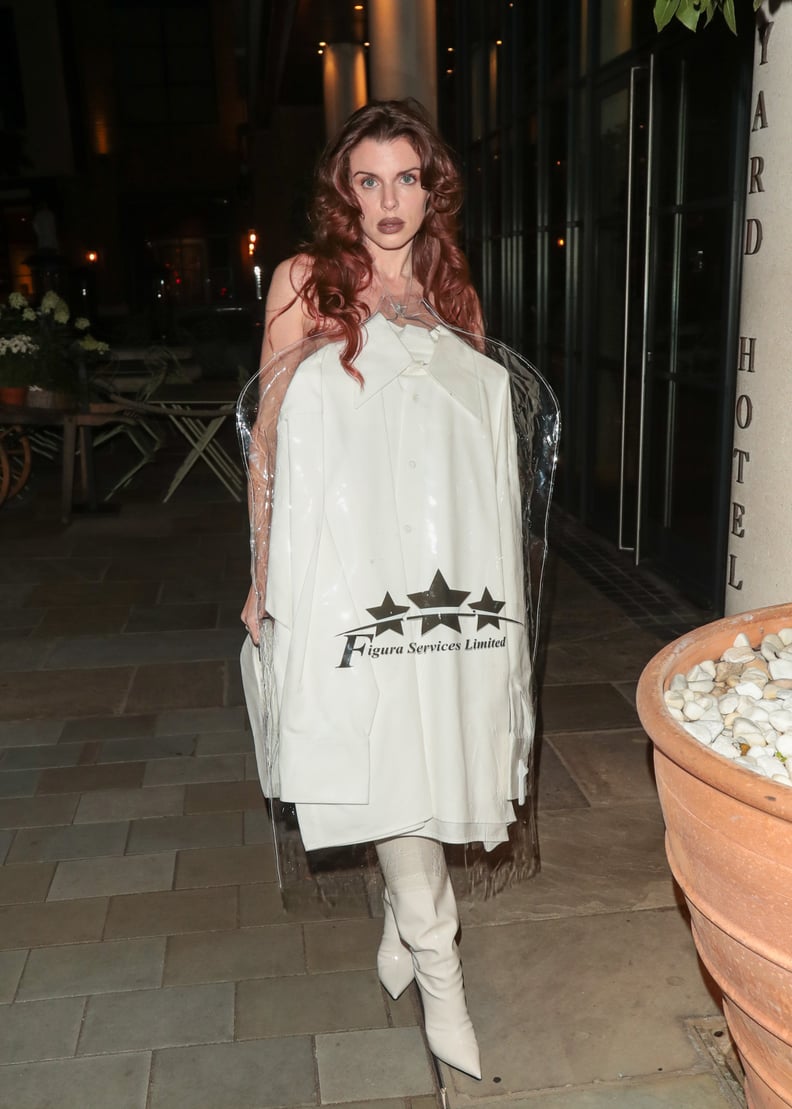 Julia Fox Carrying a Luar Bag in NYC
Julia Fox made a statement in NYC wearing an oversize gray suit with a sharp-shouldered silhouette, pointy-toe brown boots, and a matching Luar suitcase that looked bigger than her.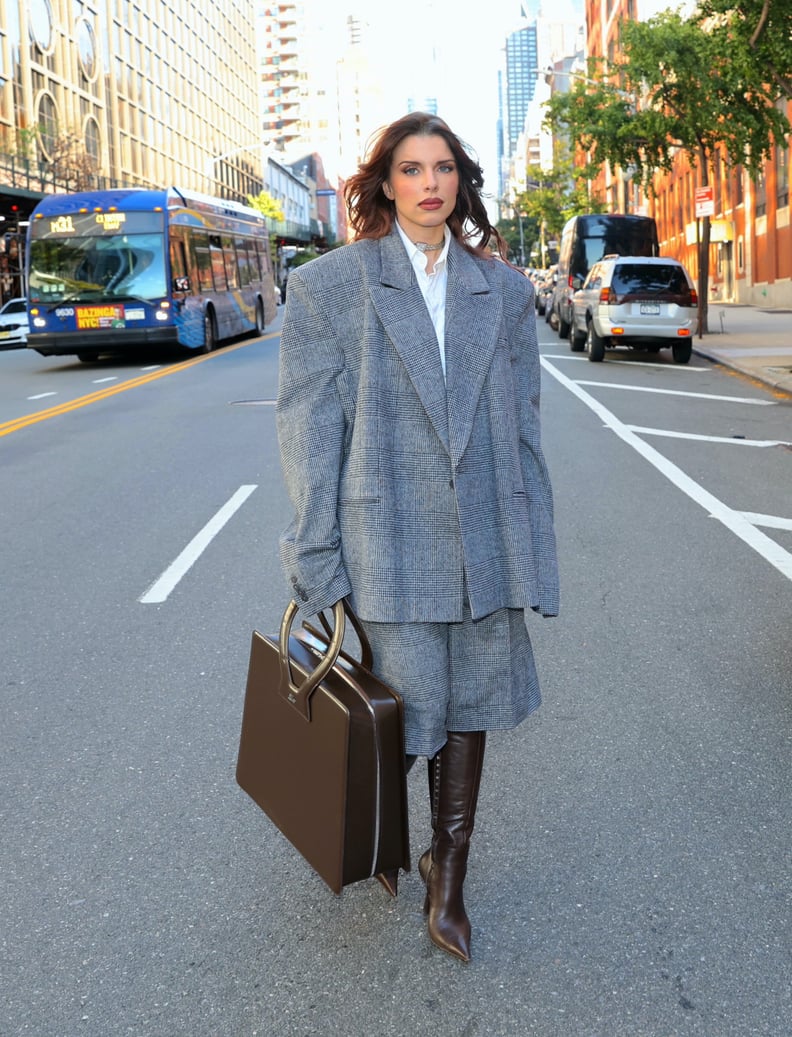 Julia Fox Wearing a Wiederhoeft Wedding Dress in NYC
Fox sat front row at Fashion Week in this dramatic Wiederhoeft wedding dress and platforms on Sept. 12, 2023.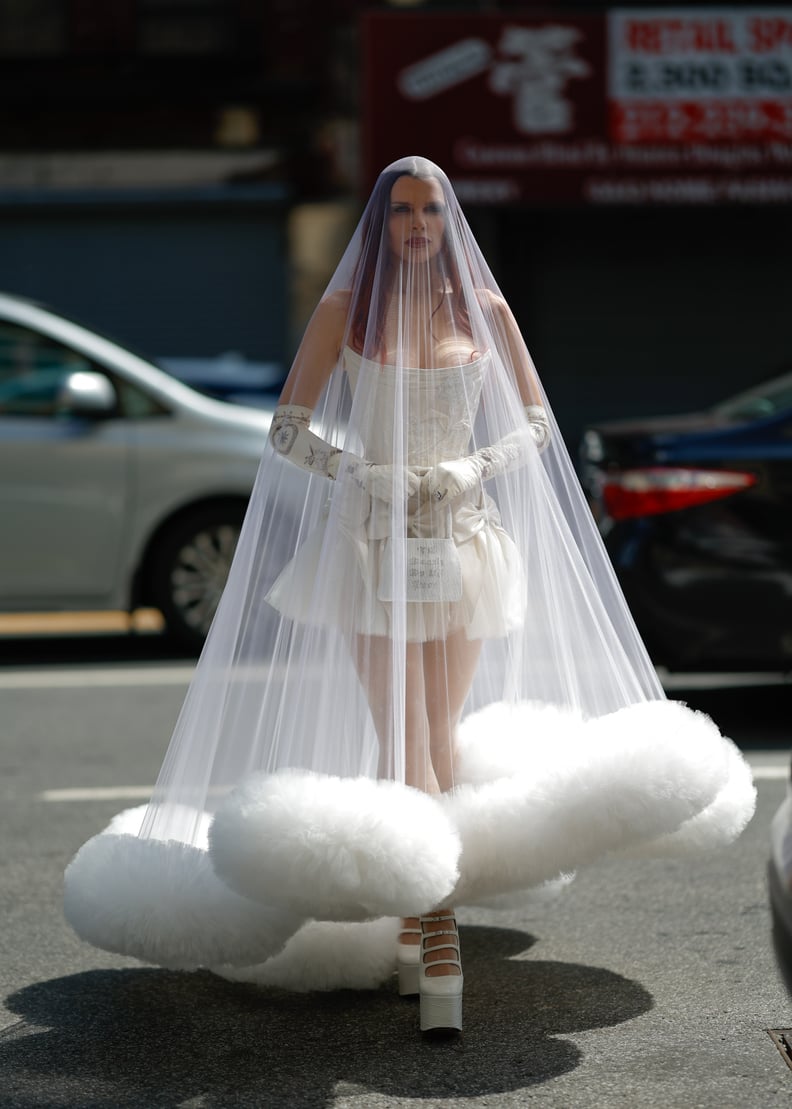 Julia Fox Wearing a Condom Tube Top and Boots in LA
Fox sported the polarizing condom look on May 11, 2023.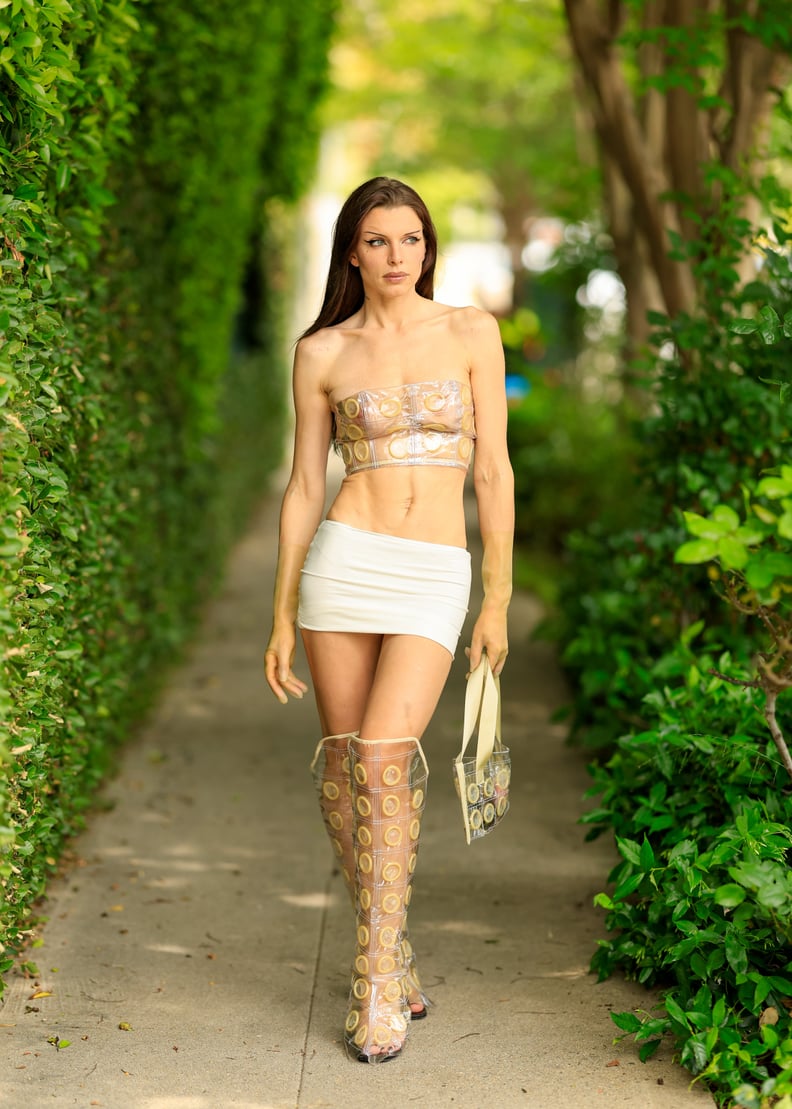 Julia Fox Wearing a Sheer PrettyLittleThing Swimsuit in NYC
Fox styled the completely see-through PrettyLittleThing cutout swimsuit with visor sunglasses and jewelry at the beach in NYC on July 17, 2023.
Julia Fox Wearing Pleaser Boots and Victoria's Secret Wings in NYC
Fox styled the latex look for a Victoria's Secret photoshoot surrounding The Tour '23 on Sept. 6.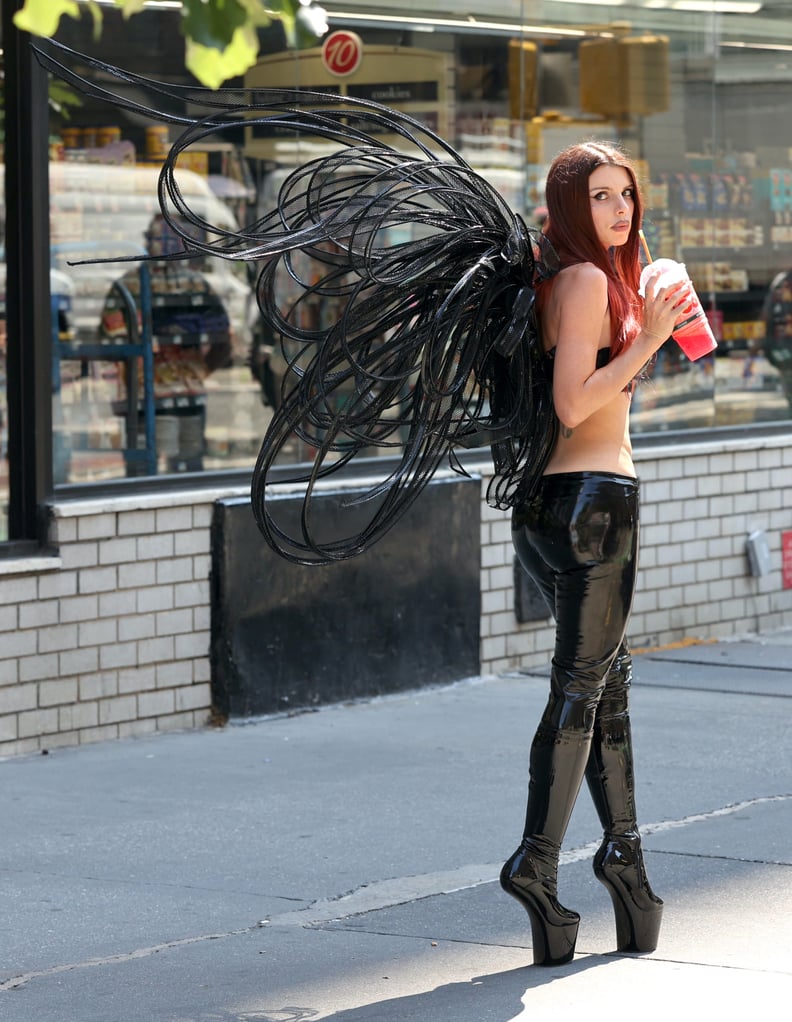 Julia Fox Wearing Wiederhoeft in NYC
Fox wore her Wiederhoeft poodle dress at New York Fashion Week on Feb. 15, 2023.
Lori Harvey Goes Pants-Less in Black Briefs Amid Breakup Rumors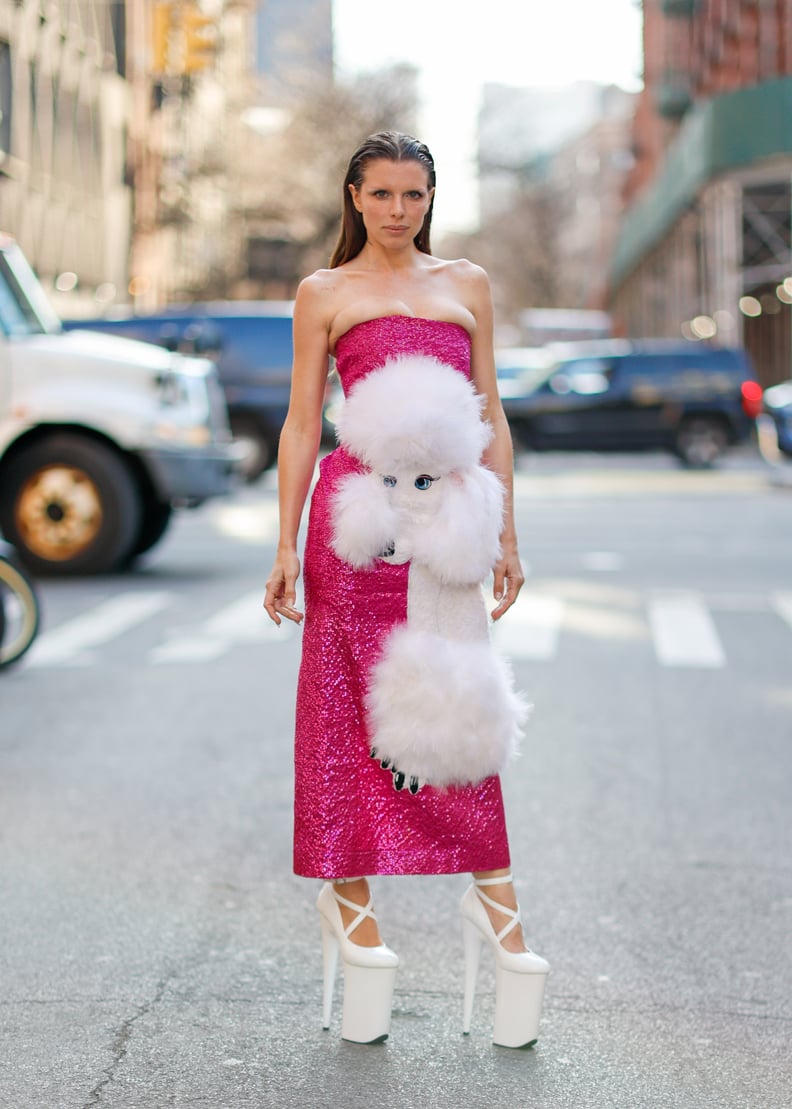 Julia Fox Wearing Valerievi at the 2022 CFDA Fashion Awards
Fox styled her Valerievi look with an Edie Parker "joint" clutch for the annual ceremony at Cipriani South Street in NYC on Nov. 7, 2022.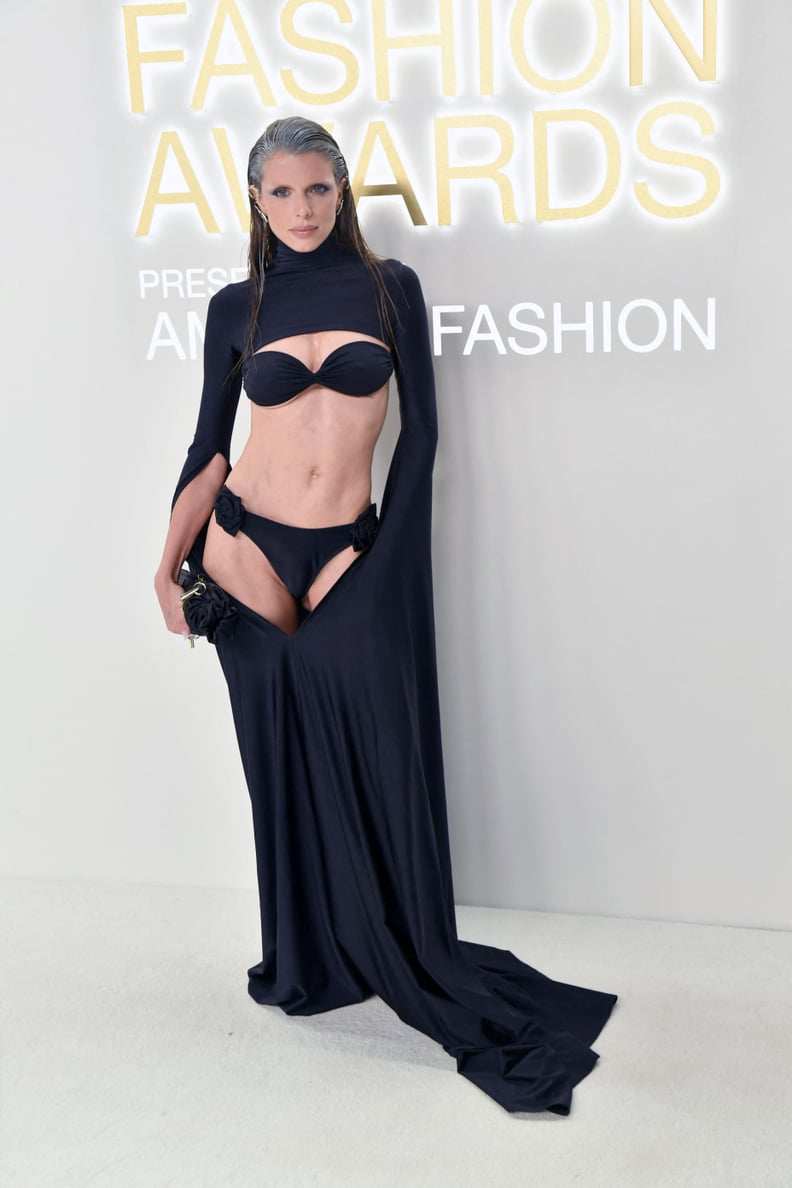 Julia Fox Wearing Hanes x Seks in NYC
Fox rocked her Hanes x Seks corset tank minidress with combat boots from Junya Watanabe and a fox-shaped bag from Thom Browne on Oct. 25, 2022.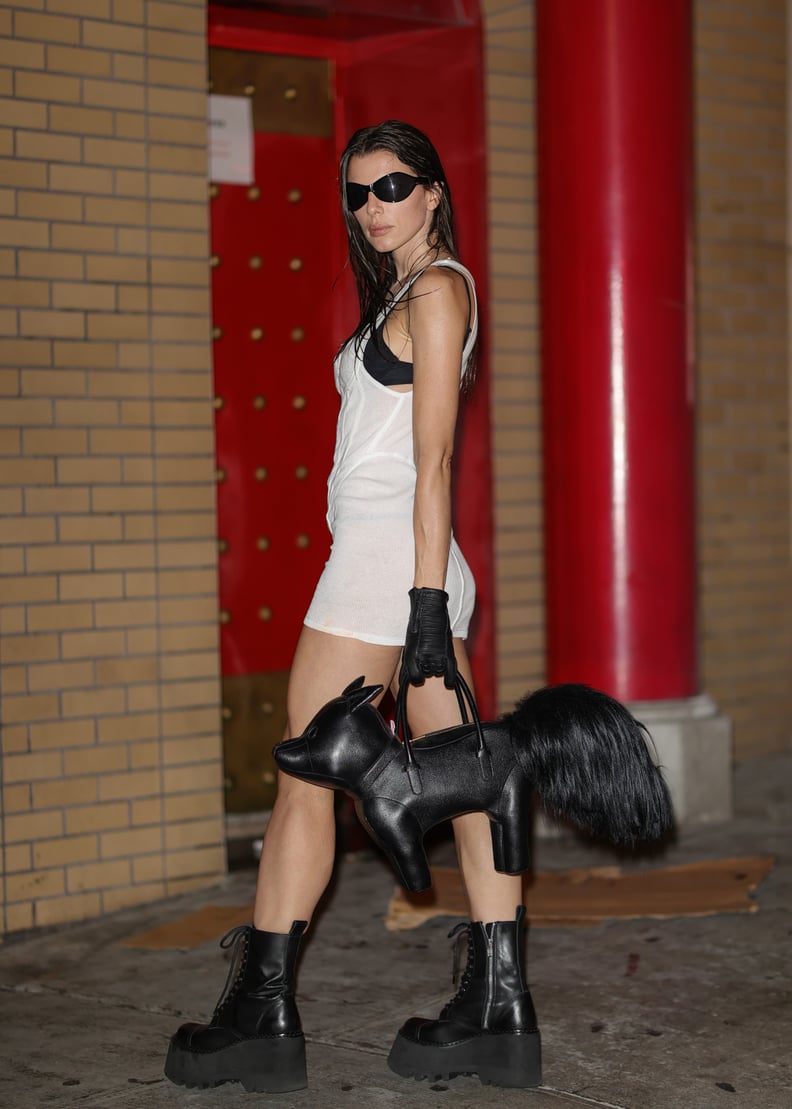 Julia Fox Wearing Zac Posen at the New York Ballet Fall Fashion Gala
Fox modeled her Zac Posen foil gown at the New York Ballet gala on Sept. 28, 2022.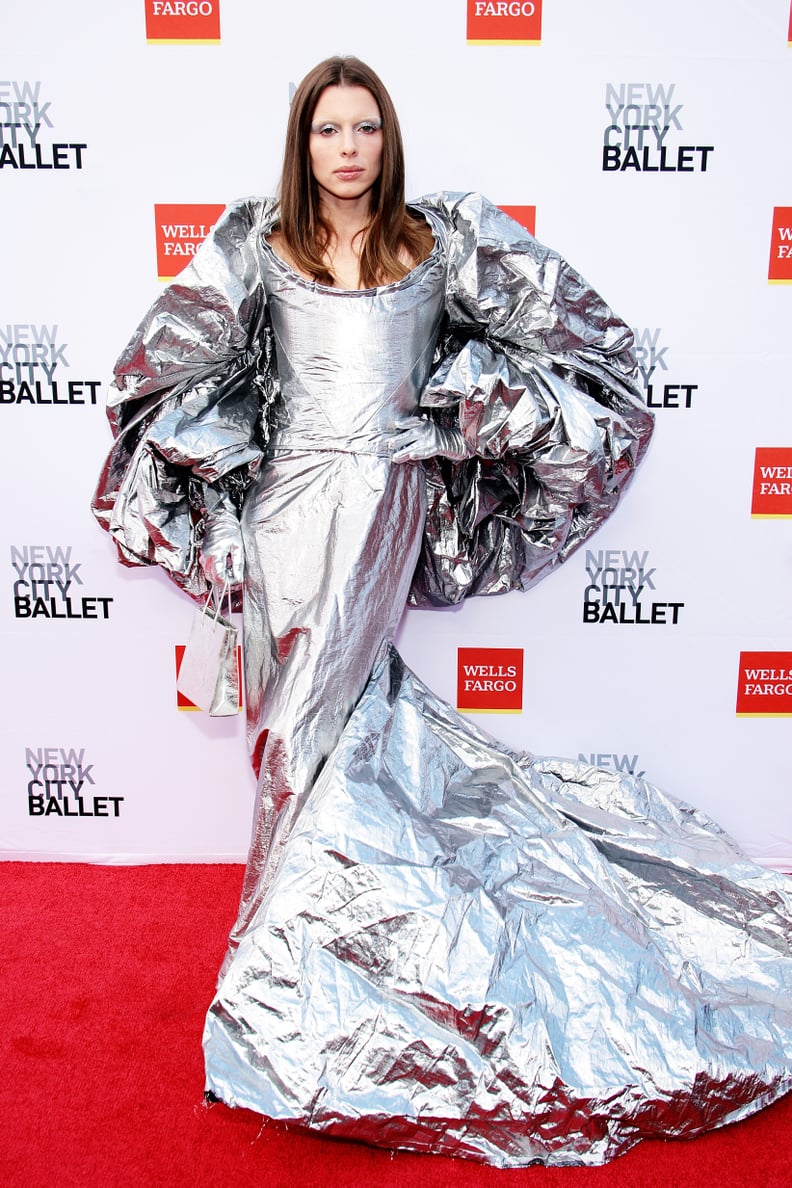 Julia Fox Wearing Duct Tape as a Bra at New York Fashion Week
Fox accessorized her duct tape look with deconstructed track pants, a foil shopping tote, and platform boots on Sept. 10, 2022.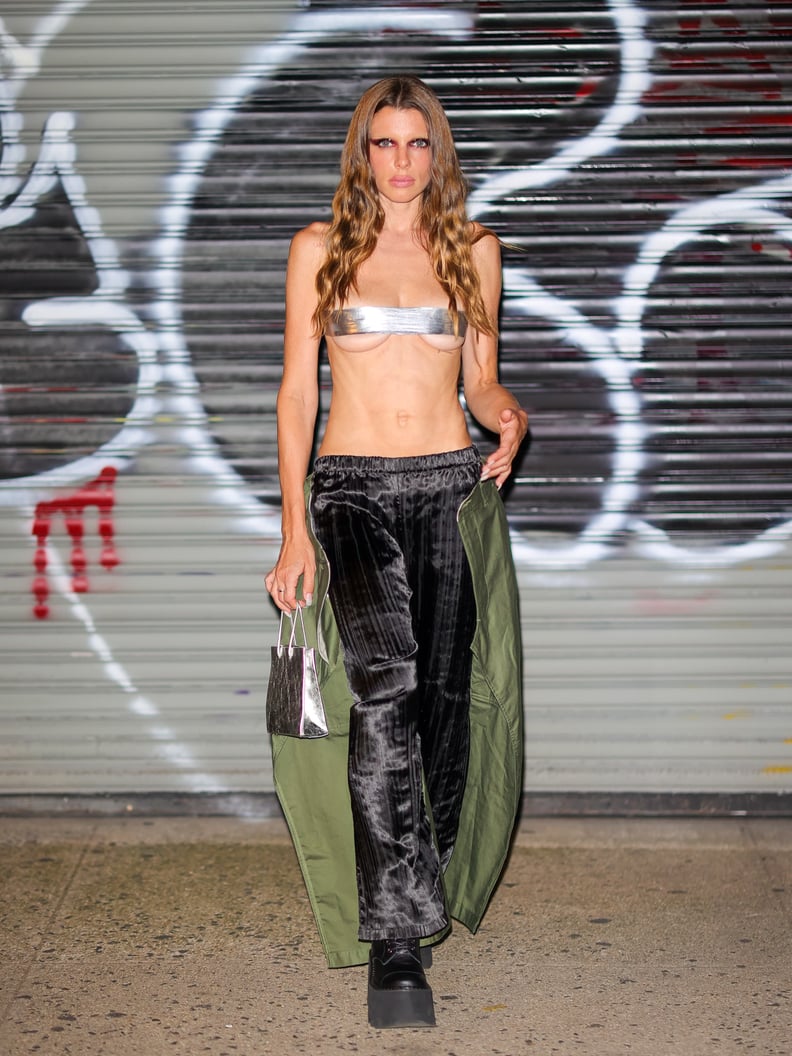 Julia Fox Wearing Luis De Javier in NYC
Fox's caged Luis De Javier corset dress was finished with a By Far shoulder bag embellished with grommets when she strutted her stuff on Sept. 6, 2022 in NYC.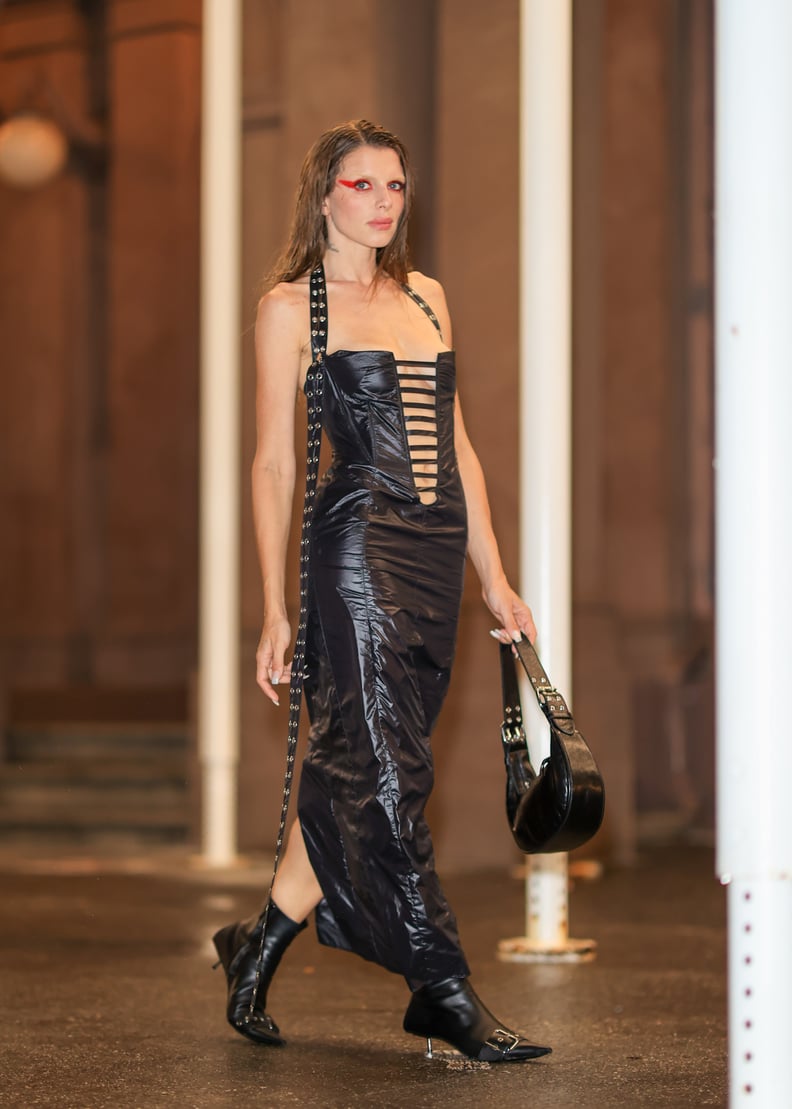 Julia Fox Wearing a Cutout Latex Dress in LA
Fox's barely-there cutout latex dress was built around metal rings and accessorized with black PVC pointed-toe pumps and a metallic shoulder bag on Aug. 11, 2022.
.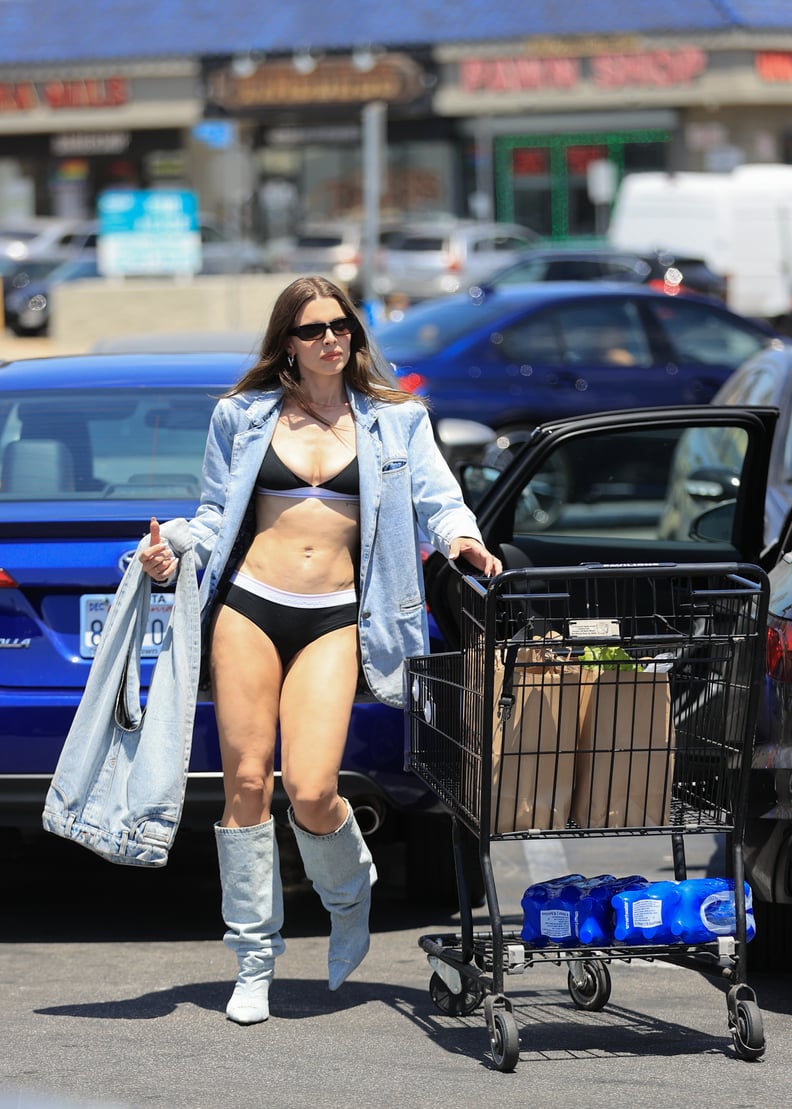 Julia Fox Wearing No Sesso at the 2022 Film Independent Spirit Awards
Fox gave up underwear and revealed a string bikini top under her No Sesso dress at the award ceremony in Santa Monica, CA on Mar. 6, 2022.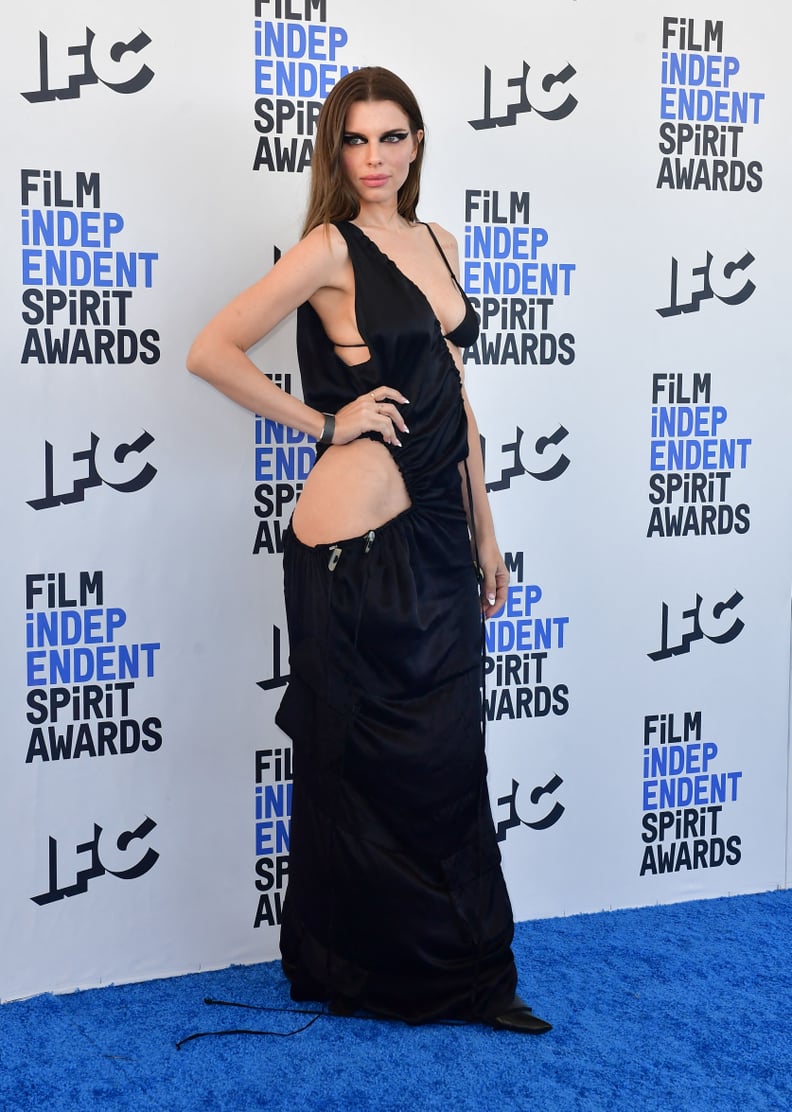 Julia Fox Wearing Schiaparelli at Paris Haute Couture Fashion Week
Fox joined Kanye West for Paris Haute Couture Fashion Week, with the duo sitting front row in matching denim outfits on Jan. 23, 2022.