The actor and writer, best known for playing Adam Sandler's lover in 'Uncut Gems', has released a shocking new memoir. She speaks to Adam White about the drug addiction that nearly killed her, how kink saved her life, and what it's like to spend six weeks dating the world's most controversial superstar
Sometime after her hit film Uncut Gems, but before she became Kanye West's six-week fling, Julia Fox decided to reinvent herself.
The actor slash writer slash living art project bleached her eyebrows zombie-white, shedded what she calls her "famous curves", and began dressing scandalously, sometimes scarily, in public.
Men – at least the sort who feel it their right to check women out in the street – suddenly stopped gawping. They stopped pawing. They stopped flirting. Finally, she was free.
"I'm not defined by whether men think I'm hot anymore," the 33-year-old tells me over tea and buttered bread, her voice nasal and sticky.
"It's interesting how men view women as these objects that need to be pretty for them. And they get a chip on their shoulder when they think you, like… could be hot, but choose not to be. Like, 'What's wrong with this psycho b****?'" She nibbles, continues.
'How would I like to be remembered? As a feminist icon'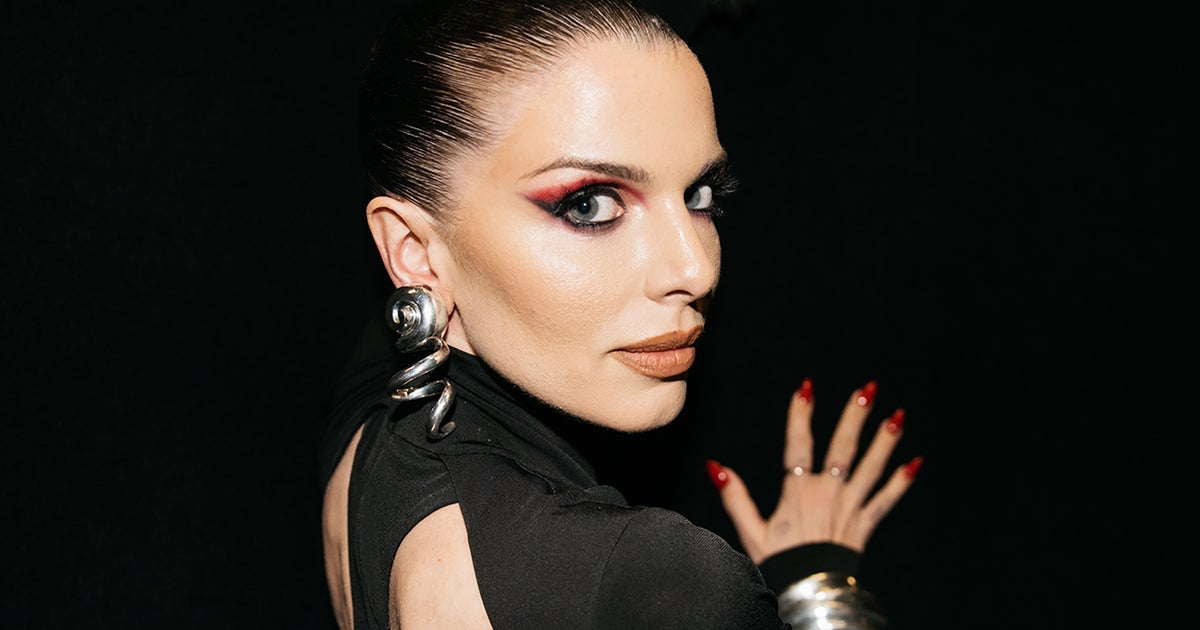 (Shutterstock)
"Men feel inherently entitled to consume your beauty. I'm so done with that. I may not be going out of my way to be as repulsive as possible now, but I'm also not really catering to men at all."
Almost overnight, in 2019, the Italian-born Fox was transformed from a New York scenester and artist to a Hollywood bombshell for the smartphone age when she was cast in Uncut Gems, Josh and Benny Safdie's anxiety attack of a thriller.
But her true image has always been more Andy Warhol's Factory than bodycon dresses at the Chateau Marmont.
Certainly, her sartorial choices tend to scramble the heterosexual mind. The night before we meet, she is photographed walking topless to an event in London, her chest covered by a plastic laundry bag containing a crisp white shirt.
The day after our interview, paparazzi swarm her as she prowls the streets in a corset decorated with Princess Diana's face.
But here, in the cavernous depths of a West End hotel bar, she looks relatively ordinary. She's wearing a chic trouser suit, all white besides a paint smudge of black on the breast pocket.
Her eyebrows are thick and unbleached. Her hair is cut into brunette waves.
The "Julia Fox" character, familiar to internet memes and flamboyant acts of public attention-hogging, has been replaced by Julia Fox the author – sensitive, dry, outrageous with a lower-case "o".
We have met because Fox has written a gasp-inducing autobiography, Down the Drain, which tracks her extraordinary journey from the cobblestones of Milan to the sidewalks of Manhattan's Upper East Side, and from the junkie quarters of New Orleans to the Gatsby parties of upper-crust Miami.
Even by the usual standards of celebrity tell-alls, her story is sensational. She gets addicted to heroin, almost dies several times, finds salvation as a dominatrix, and encounters a raft of artists, abusers and sugar daddies. Then she becomes a star.
"I just told the truth," she shrugs. "It means you disarm everyone else so they can never use it against you.
Because you're the one doing it first." She perches on the edge of a sofa, surveying a menu. "It makes me feel invincible – 'You can't hurt me because I've already put it out there.'"
It's an understatement. One of the things Fox recalls noticing when she first arrived in New York at the age of six – she was born in Milan to an Italian mother and an American father – was that US advertising was different from the advertising back home.
There, she writes, it was "perfectly normal to glance up at a billboard and have a pair of bronzed, oily tits successfully sell you sunscreen".
In America? "All the billboards … depict guns and violence." Those two extremes – lewd, confusing sex, and angry, volatile machismo – would come to define her early life.
I really thought 2020 was going to be my year. I was gonna move to Hollywood, start a new life, just really hit the ground running. But then the rug got pulled out from under me
Remember Kids? The 1995 Larry Clark movie in which underage youths skate, snort and inject their way through Manhattan? Fox basically lived it.
With her mother largely absent and her father irresponsible and prone to violent outbursts, Fox ran wild, dropping in and out of school and finding "comfort in the gritty chaos" of life.
In these chapters, she parties in abandoned tunnels, pops pills and steals. Older men repeatedly prey on her.
A 26-year-old takes her virginity when she's 14; at 16 she is in a serious relationship with a drug dealer "who fluctuates from rage to complete despair and helplessness in a matter of seconds", and who winds up in jail. Another man leaves her to die when she overdoses at 17.
Words such as "rape" are never mentioned, which Fox says is deliberate. "At the time, I didn't have understanding or awareness about what was happening," she says. "But I trust that the reader will know that these people are clearly evil."
One respite from her experiences during these years is sex work. At 18, in need of money, and on probation after being arrested for carrying a fake ID, Fox answers an ad for a Manhattan dominatrix dungeon. Her application asks for a full-body photo, a short bio, and a description of her most "sadistic sexual fantasy".
She gets the job. Being a dominatrix proves to be an unexpected training ground for her future acting career.
"I transform into your mean mommy, an evil nun, the bitchy popular girl in high school," she writes.
She eventually tires of the dungeon, but today Fox has nothing but positive memories of her time there.
"I don't think I would be here if I hadn't worked as a dominatrix," she says. "The dungeon is the only place in the world that's matriarchal – where the women rule and the men are lesser [beings]. There is an undercurrent of darkness, for sure… which sucks. But it has to be that way, because we're still existing under the actual patriarchy. It was one of the only places that made me immediately feel very safe, and kind of opened my eyes to how the world should be… how amazing it is when men are just serving women."
Star-making role: Fox embraces Adam Sandler in a scene from the 2019 thriller 'Uncut Gems'
(Netflix)
The years after the dungeon go by in a flash. Fox becomes a New York art scene "It-girl" while continuing to tangle with heroin. Her lifestyle is funded by an Indian billionaire whom she leaves when he becomes too controlling. She co-founds a fashion label, poses for Playboy, and hosts a number of solo art shows – one, called RIP Julia Fox (2017), is inspired by her near-death experiences and features paintings drawn in her blood.
Her Uncut Gems role – in which she provides calming ballast to Adam Sandler's manic, spiralling jeweller – was written expressly for her, and earned her critical acclaim. But the shoot was nearly derailed by her addiction – she was out of it on bad pills and painkillers through much of early filming – and she was knocked sideways by the news that one of her closest friends had overdosed. She vowed to sober up for the remainder of the film's production, but death continued to trail her. On the film's press tour, her best friend Gianna also OD'd. At Gianna's funeral, Fox threw herself onto her casket.
The repeated losses convinced Fox to get properly clean – today she only smokes marijuana and is an advocate of Suboxone, a medication to treat opiate addiction. How have her various brushes with mortality shaped her? "I was a lot more reckless before I lost everyone," she says. "I didn't care if I died. But now I just hold on to life so tightly, and hold on to the friends I have left." One of the side effects of experiencing so much loss, she adds, is the impact it has on new relationships. "It's so hard forming bonds with people. Like, I cannot befriend anyone that's been an addict because if they relapse and I lose them, I just don't think I could handle it. I can never put myself through that again."
Fox seemed poised to become a major star in the wake of Uncut Gems' release, but outside of a small appearance in Steven Soderbergh's period crime movie No Sudden Move, she hasn't acted in a major project since. It's unfortunate – Fox is an arresting, ingratiating screen presence, all wily charm and magnetism. "I really thought 2020 was going to be my year," she says wistfully. "I was gonna move to Hollywood, start a new life, just really hit the ground running. But then the rug got pulled out from under me." The pandemic happened, then Fox had a baby with her husband at the time, the pilot Peter Artemiev, from whom she split in 2020. Her son Valentino is now two.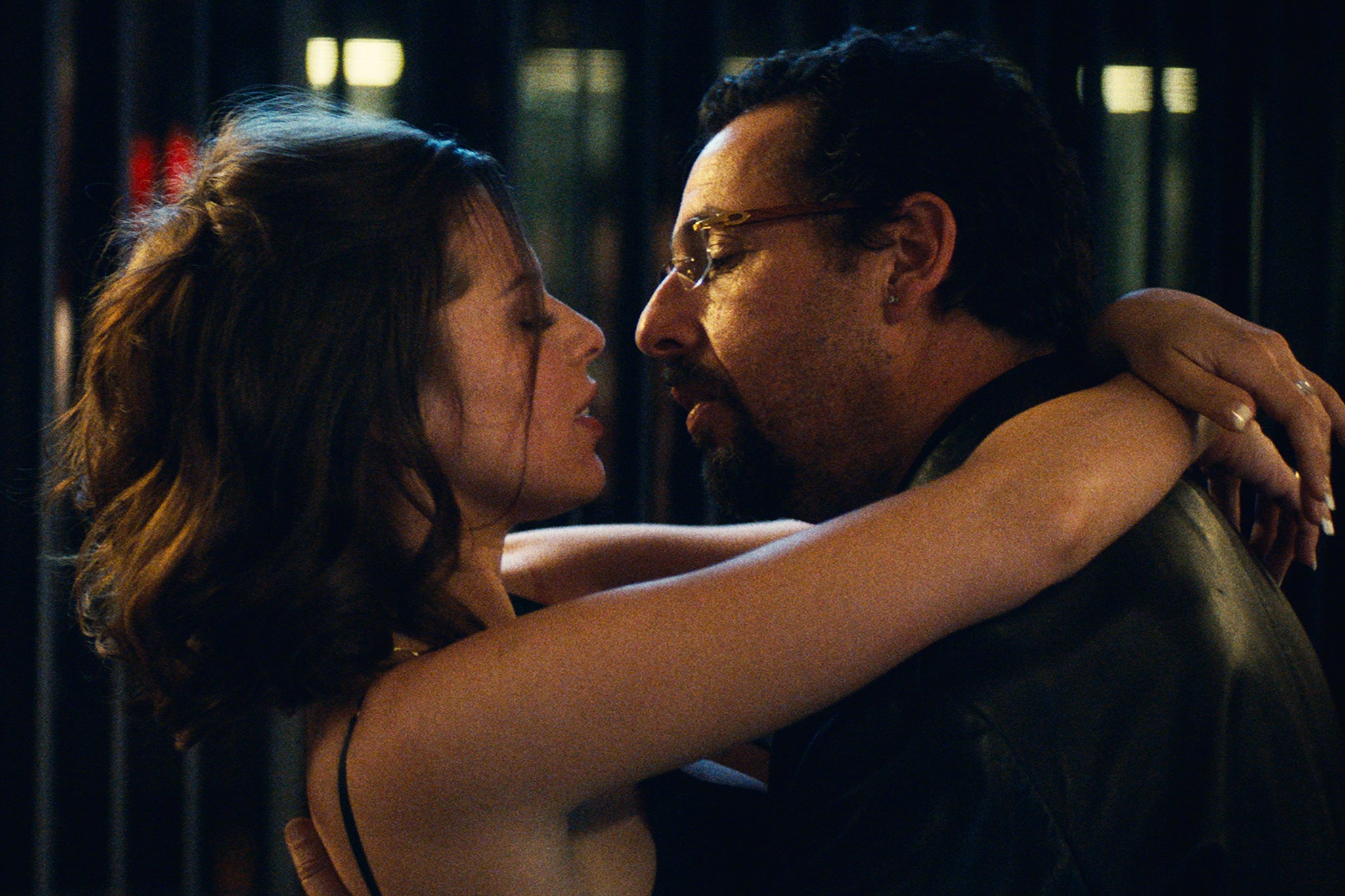 'Men feel inherently entitled to consume your beauty. I'm so done with that': Fox at the Cannes Film Festival in May
(Getty Images)
Fox did maintain her celebrity profile, but it became somewhat atypical in the aftermath of Covid. In early 2022 she dated West, which we'll get to, and subsequently went viral for often unusual reasons – she pronounced Uncut Gems weirdly in an interview; described her then work-in-progress memoir as "so far a masterpiece"; showed off her modest New York apartment, complete with a "small mouse problem", in a TikTok. Traditional movie-star fame had given way to internet fame, with its fixation on random non-sequiturs and soundbites.
Fox is sanguine about it all. It's not movies, she says, but it's enough. "You have to trust the process," she explains. "However the path looks, I know it'll take me right where I need to be." She'd love to continue writing, and has plans for a children's book and a screenplay. More autobiography is out of the question ("I'm honestly really over myself," she laughs. "I thought RIP Julia Fox would be the end of that, but here we are"). She has designs on erotica, which feels appropriate. Even when she is describing people who do bad things, there is an undeniably horny charge to the copious sex scenes throughout Down the Drain.
"Well, there was a time when I swore off porn," she tells me, as casually as someone reading out a shopping list. "And I would only read erotic literature if I wanted to masturbate. So maybe because I spent years doing that, I now know how to write a good sex scene. Those scenes were for the girls, by the way. Girls love a good sex scene in a book, so that was a little sprinkle. A little present."
Not at all sexy – mainly because they don't sleep together and instead stay up to the early hours playing Uno – is Fox's chapter about dating West. It's the section of the book that has inevitably drawn the most headlines in recent weeks, and Fox has valiantly persevered through questions about him from the press. Today, though, I'm told that mention of West is off-limits. Instead, I ask her if she's felt respected on Down the Drain's promotional tour. She thinks it over between bites of a cookie.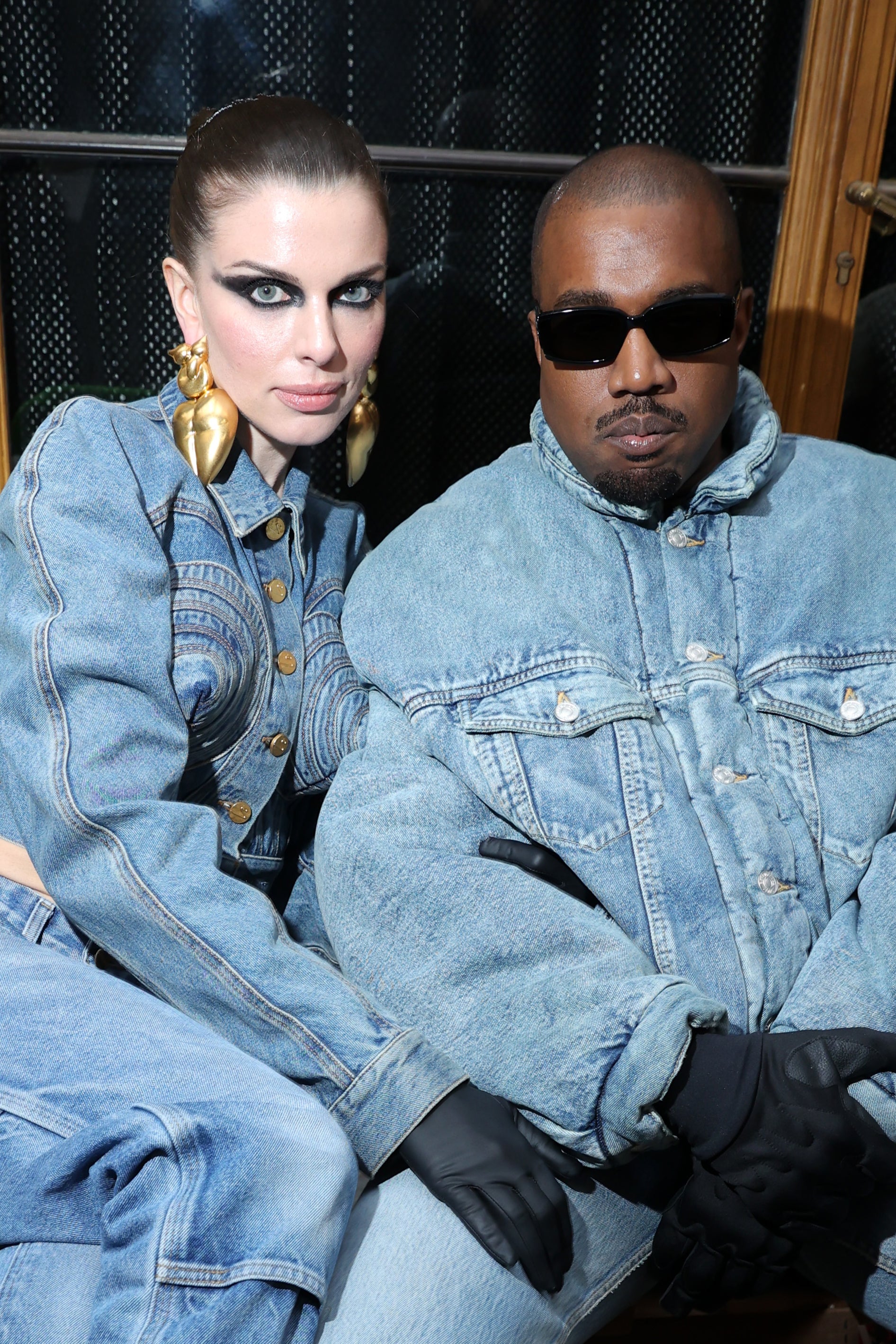 Public affair: Fox and Kanye West attend a Paris fashion show in early 2022
(Getty)
"Sometimes," she chews. "Not all the time." In her book, she condemns her treatment by the press: "They take my words out of context and twist them around to make me seem dumb." Fox says it still happens. "The press don't give a s***. They just want clicks. But I'm also not going to sit here and complain. I'm not even expecting to be treated fairly, because I'm not going to set myself up to be disappointed. I knew, once the book came out, that there were going to be a million s***ty headlines about Kanye West, you know? I knew I was going to write an entire memoir and they would focus on the six pages where that person is there."
Fox dated West – whom she refers to only as "the artist" in her book – for six weeks in early 2022, a few months before his career went up in flames after he made a series of antisemitic remarks. Fox was at first flattered by West's attention, before coming to suspect that he was using her for publicity. She dumped him after he repeatedly pestered her to sign an NDA.
The section in which "the artist" appears is certainly wild, mainly in its depiction of West as a faded oddball, but – I tell Fox – her time as unhappy arm candy is probably the least interesting section of Down the Drain. "I know!" she says. "I keep trying to tell people that," she sighs. "All my life I've seen this stuff happen to famous women, but you just don't think those things will happen to you. And then they f***in' happen to you, too! Like… a woman is a woman, and the world is misogynist."
As much as she says everything with an audible shrug, Fox is visibly at ease, and more comfortable with herself than ever before – something she credits to her son. I ask her how she'd like to be remembered. "As a feminist icon," she replies, instantly and flatly. "I think I'm just ahead of my time. People will catch on later." I say that the best people are typically never appreciated in their lifetime. She nods her head. "But it's OK – I've known for ever that this is the road I have ahead of me. And that when all is said and done, I'll be on the right side of history."
'Down the Drain' is out now via HarperCollins