Billie Eilish had the best reaction realizing Orlando Bloom was in Pirates of the Caribbean.
At such a young age, it is remarkable to see all the success that has followed Billie Eilish. At just 17, she was already making massive investments worth $2.3 million.
However, with all the success comes a massive spotlight. In truth, Eilish also receives a lot of criticism because of her young age.
A couple of moments come to mind and one in particular took place alongside Orlando Bloom and Katy Perry.
Katy presented Orlando Bloom to Eilish at Coachella, and it seems like Billie had no idea who Bloom was.
We're going to look back at the viral moment, and the great reaction Eilish had once she realized Bloom's stardom from Pirates of the Caribbean.
In addition, we're going to take a look at another moment that saw Eilish unable to identify a certain iconic band.
It wasn't received well by the fans, and Eilish blamed Jimmy Kimmel for the moment.
Billie Eilish Didn't Know Who Orlando Bloom Was After Katy Perry Introduced Them At Coachella
As expected, the moment went viral, showing Billie Eilish completely confused when meeting Orlando Bloom.
The interaction takes place behind the scenes at Coachella, with Katy Perry introducing Bloom to Eilish.
During the encounter, we can see Eilish acting a bit off. Later on, brother Finneas O'Connell lets Eilish know who she had just met.
"Who was that?" Eilish asks. "Orlando Bloom," O'Connell replies. "He played Will Turner in f—ing 'Pirates of the Caribbean.'"
Upon realization, Eilish knows she messed up. "That guy?" Eilish exclaims. "That was him? No way! Bring him back! I wanna meet him again.
He kissed me on the cheek!" "I did not know that was him," she adds after looking at photos of Bloom as Will Turner. "I thought that was just some dude Katy Perry met."
Luckily for Eilish, she did get another chance later on to greet Bloom. She said, "You don't even understand, my 9-year-old self, bro. You're a f—ing, I don't even know! Oh my lord. Thank you for everything you do."
A humbling moment for Orlando Bloom without a doubt. Though, as we're going to reveal later, there are lots of other major stars Billie Eilish is not aware of.
Billie Eilish And Orlando Bloom Are Now Completely Fine After Eilish Publicly Congratulated Him On Fatherhood
During an interview with Vogue, Billie Eilish was asked questions by some of the top stars in Hollywood. Orlando Bloom was one of those people.
Eilish immediately reacted with excitement, congratulating Bloom on his new child at the time, while saying she couldn't wait to meet her.
Via Instar 
In addition, Eilish was asked about being a vegan by Bloom. Eilish tells Bloom she has been a vegan since the age 12.
"I've been vegan for, damn, seven years," Eilish responded during the Vogue interview.
"I learned about the dairy industry and the meat industry, which I already knew about. Once you know about that kind of thing and you see it it's really hard to go back.
And, even now, while I have many friends that eat dairy and meat and I don't want to tell anybody what to do, I just can't go on in my life knowing what's going on in the animal world and not doing anything about it."
Things were clearly back on track between the two. However, it wasn't the last time Eilish would make the headlines for not knowing popular individuals. This next instance might've been a lot worse given the popularity of Van Halen.
Billie Eilish Also Received Heat For Not Knowing Van Halen
Jimmy Kimmel is responsible for this mess. He asked Billie Eilish during their interview if he knew any member of Van Halen.
Eilish responded by saying "Who?" The moment would bring about lots of backlash from the fans. Eilish instantly called out Kimmel during their interview.
"Wait, really quick – do you remember last time I was here and you made me look a little stupid? I thought it was funny because I was playing along, and everybody thought I was actually serious and didn't know anything."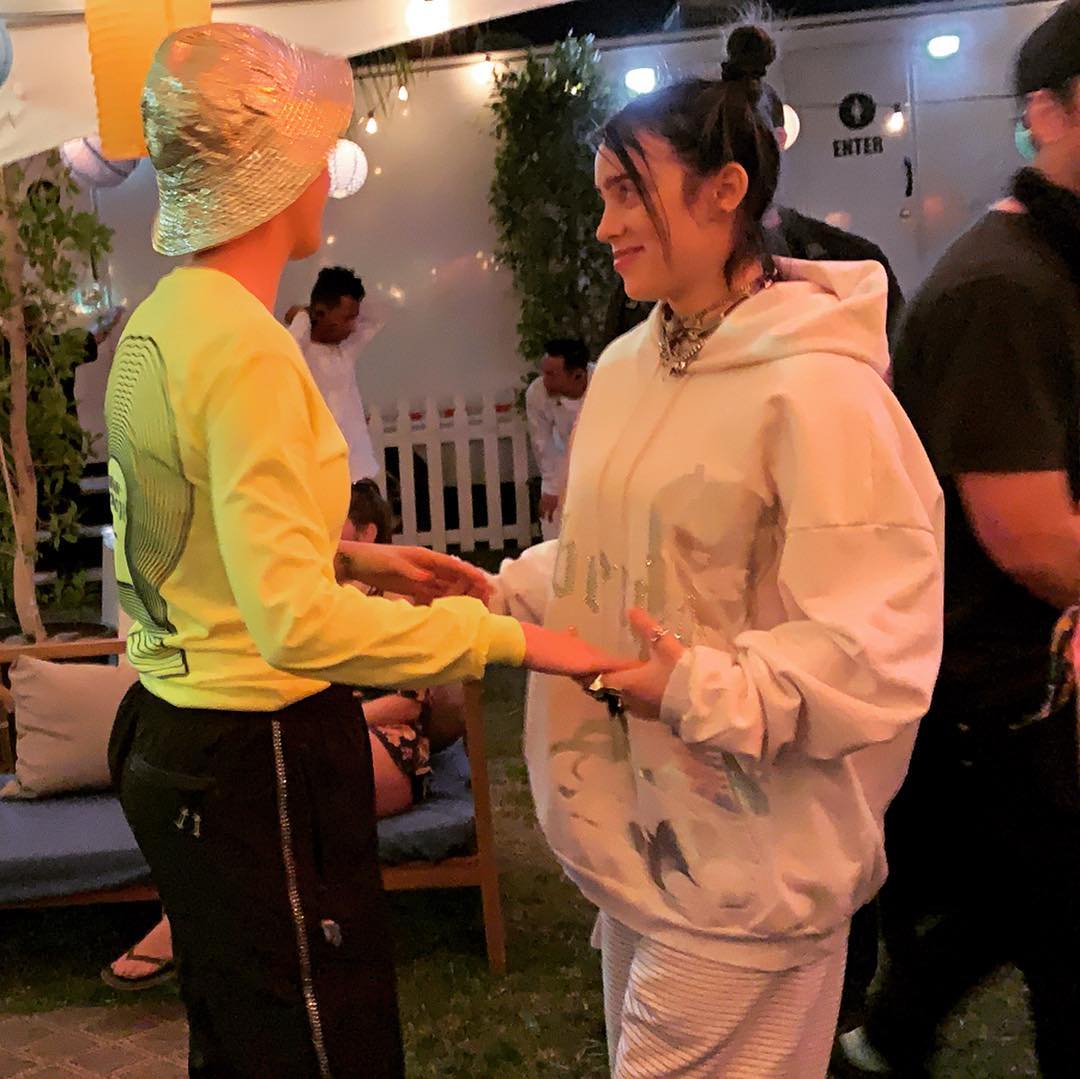 Via: ABC
Credit to Wolfgang Van Halen for sticking up for Billie Eilish, despite the moment.
"If you haven't heard of Billie Eilish, go check her out. She's cool. If you haven't heard of Van Halen, go check them out. They're cool too. Music is supposed to bring us together, not divide us. Listen to what you want and don't shame others for not knowing what you like."
Without a doubt, it won't be the last time Eilish makes the headlines for such a moment. Let's not forget, the artist is still just in her early 20s.