While in love with billionaire Kanye West, actress Julia Fox was given an ostrich leather Hermès Birkin bag by her boyfriend for her birthday.
On August 12, paparazzi caught actress Julia Fox appearing on the streets of Los Angeles, USA. The 32-year-old beauty did a fashion photoshoot where she wore a daring, revealing dress made of fancy plastic material.
Famous after her short-term romance with billionaire Kanye West, Julia Fox is currently very busy showing off events, taking photos and giving interviews. The actress always attracts attention with her bold and unusual casual outfits.
In a recent interview, Julia Fox admitted that she always wants the paparazzi to take the best pictures possible of her and that's why she dresses impressively and invests every time she goes out.
"I think just being fearless, doing what I feel like doing and not caring if society thinks it's normal or not. If I think it's cool then it's cool. I feel like I "I'm doing a service. I'm providing a visual service," said Julia Fox.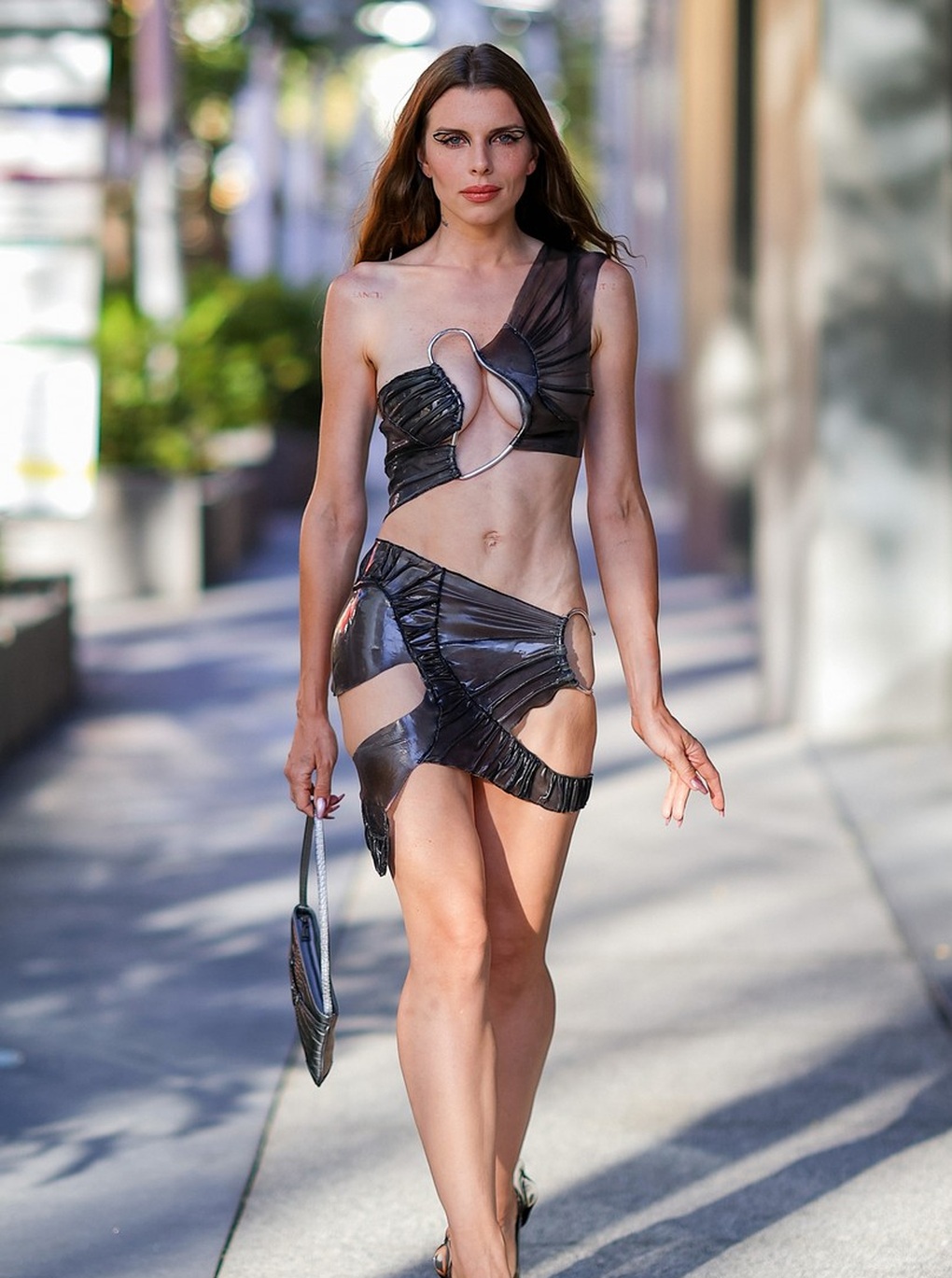 Julia Fox went out for a fashion photo shoot on August 12 (Photo: Backgrid).
A few weeks ago, Julia Fox wore a vest revealing her underwear while going shopping. When Julia's photo series spread on social networks, netizens had a lot of reactions.
Someone commented: "When Julia Fox goes grocery shopping in her underwear, she's a fashion icon but when I do that, I'm no longer welcomed by the supermarket."
Another person said: "Julia is very beautiful but that outfit is not suitable for shopping at the supermarket."
After the image of her wearing lingerie shopping caused a storm, Julia Fox calmly shared on Instagram: "I just think that if that outfit is socially acceptable at the beach, then it must be accepted." everywhere".
After many years of acting but not being really famous, Julia Fox became a star thanks to her short-lived love affair with billionaire rapper Kanye West. The couple dated for less than the first two months of 2022.
During the time the couple was in love, Kanye West bought his girlfriend an expensive Hermès Birkin bag made of ostrich leather for Julia's birthday and in addition, Kim Kardashian's ex-husband also gave it to four of Julia's friends. Fox each had an Hermès bag.
Julia Fox is famous for her impressive fashion style (Photo: Backgrid).
In an interview, Julia Fox said that she only used this luxurious bag for a few days and then put it back in the box because she felt nervous about owning a bag that was too expensive.
Fox says: "I don't know if you understand what it's like to own a Birkin bag when you're not rich, but it's like the most anxiety-provoking thing ever. You always have to check Check the bag to make sure it's still there, that it hasn't magically grown wings. It's scary having a Birkin. It's a lot of pressure."
The Italian-born actress also affirmed that her relationship with Kanye West, even though it was only for a short time, caused her to go through a stressful and stressful time. "I tried my best to maintain this relationship. I had a very tight life. How do I fit in such a person in an already busy life? Everything unsustainable. I lost 7 kg in just a short time," Julia shared.
In an interview after ending her relationship with Kanye West, Julia Fox said she did not regret the relationship that lasted less than two months. The beauty said: "No matter what, it's still the best thing that could happen to me. It's like restarting my life. It has brought back a ray of light in my life that I had forgotten." ". Julia also confirmed that she and Kanye are still friends after their split.
Fox added that she completely changed her fashion style after dating Kanye West. "A few days after meeting him, all my clothes were in boxes or gone. It wasn't like I was just packing up my old clothes, it was like I was packing up my old life." yourself, put everything in a box to let the past go," Julia shared.
Italian-American actress Julia Fox is not a famous star, but recently she suddenly became famous thanks to her short-lived love affair with billionaire Kanye West – Kim Kardashian's ex-husband.
The couple dated for less than 2 months, but Julia Fox from an unknown actress became a star who was carefully "taken care of" by the press. The search trend for Julia Fox's name on Google increased nearly 100% during this time.
People in the entertainment industry claim that Julia Fox can earn $100,000 for each event she attends as well as being paid $50,000 for each advertising post on her personal page. Julia Fox's Instagram page currently has nearly 2 million followers.