Actress Julia Fox is becoming a new fashion icon in Hollywood. She impresses with a series of bold outfits when going out or attending events.
Italian-American actress Julia Fox is not a famous star, but recently she suddenly became famous thanks to her short-lived love affair with billionaire Kanye West – Kim Kardashian's ex-husband.
The couple dated for less than 2 months, but Julia Fox from an unknown actress became a star who was carefully "taken care of" by the press. The search trend for Julia Fox's name on Google has
Julia Fox xinh đẹp dự liên hoan phim (Video: Screen Slam).
People in the entertainment industry claim that Julia Fox can earn more than 2 billion VND for each event she attends as well as being paid more than 1 billion VND for each advertising post on her personal page. Julia Fox's Instagram page currently has about 1.3 million followers.
After briefly dating billionaire Kanye West (Kim Kardashian's ex-husband), Julia Fox is now very famous and she is always a favorite target of the paparazzi.
The Italian-born actress has a sexy and unique fashion style. She is not afraid to wear very bold outfits every time she goes out or attends events.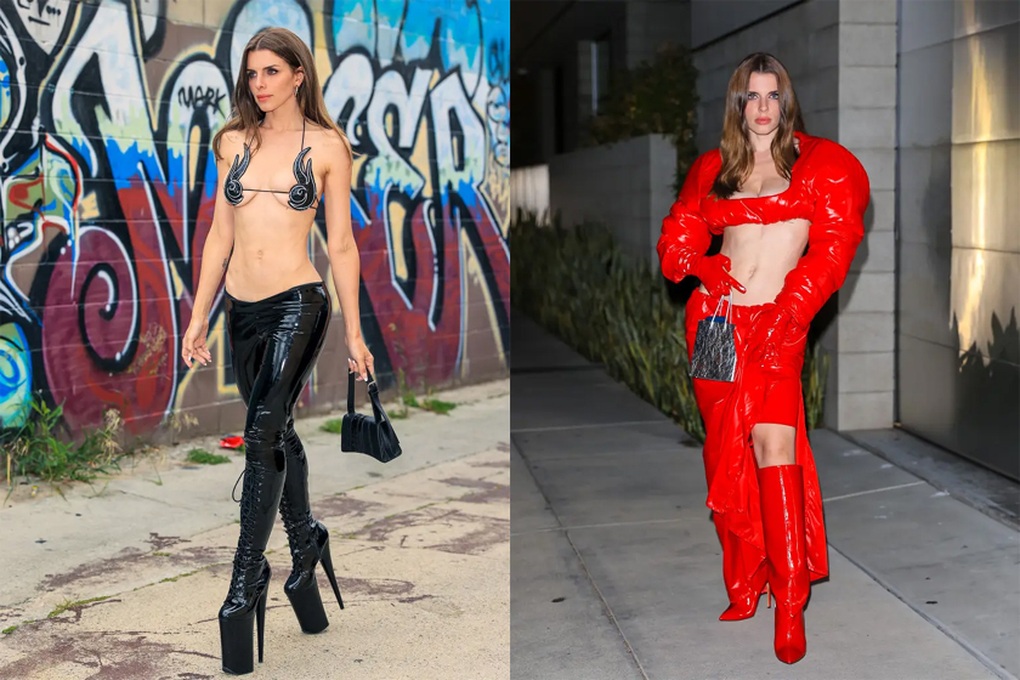 Julia Fox is famous for her bold fashion style (Photo: Backgrid).
Julia Fox is now Hollywood's new fashion icon and her every move is followed by paparazzi.
Possessing a sexy body, Julia Fox said, she is someone who confidently accepts risks in choosing bold fashion styles.
Julia Fox shared: "I think just being fearless, doing what I feel like doing and not caring about whether society thinks it's normal or not. If I think everything is cool then it is cool I feel like I'm doing a service. I'm providing a service, which is a visual service."
A few weeks ago, Julia Fox caused a surprise when she wore a vest revealing her underwear on the shopping street. When Julia's photo series spread on social networks, netizens had a lot of reactions.
Someone commented: "When Julia Fox goes grocery shopping in her underwear, she's a fashion icon but when I do that, I'm no longer welcomed by the supermarket."
Another person said: "Julia is very beautiful but that outfit is not suitable for shopping at the supermarket."
After the image of her wearing lingerie shopping caused a storm, Julia Fox calmly shared on Instagram: "I just think that if that outfit is socially acceptable at the beach, then it must be accepted." everywhere".
Julia Fox is known for her love story with billionaire Kanye West (Photo: Backgrid).
Because of wearing some clothes with similar styles to Kim Kardashian, Julia Fox was considered a "copy" of the super-busty beauty and Julia denied the information that she imitated Kim Kardashian's fashion style.
Julia Fox said: "We wore some of the same outfits. When I wore them, I knew that Kim had worn it before but I thought it was cool that she had worn it too. Personally, I don't copy. she".
After Julia broke up with Kanye West, sources close to the actress shared with the press: "Julia no longer has the strength to put effort into her relationship with Kanye West. Julia is a mother, family as well as Her job is in New York while Kanye wants a girlfriend in Los Angeles. Julia can't do that. Although they are still close, their relationship is no longer growing."
Another source also shared with the reporter: "When Julia was not present, Kanye West returned to his old behavior, making a series of controversial statements on social networks and doing antics in front of him. general public".
The beautiful actress also denied reports that she dated Kim Kardashian's ex-husband just for fame. The beauty admitted that she received more attention after dating Kanye West, but she really didn't care about that.
Kanye West và Julia Fox nổi bật tại Paris (Video: Paris video stars).
"People think I'm dating him for fame or money, but actually I've dated many billionaires over the years," Julia Fox shared.A source close to the actress added: "Julia Fox is always working hard to develop her career. Julia knows what she's getting into when she dates Kanye and the comparisons that will be imposed on her. Julia Fox is a strong woman who always gets the job done and that's why Kanye is attracted to her. Julia is no longer stressed by outside noise and she always moves forward."
According to nypost.com